G R O U N D Z E R O
The Bomb and the descent of man
Raj Chengappa
The diabolical weapon called nuclear bomb is not the source of our destructive force. The root cause is that despite all our efforts, the human race has never been at peace with itself. The ascent of man has all through been a history
of conflict.

Raj Chengappa

It is always an unnerving experience to visit one's old school where one has spent the formative years. While there are a few moments of triumph, all sorts of uncomfortable incidents come to mind. For at that tender age, learning was always a hard process, rarely a pleasant one, at least for me. Yesterday, I had the rare honour of being invited to deliver the Eighth General KS Thimayya Memorial Lecture at Bishop Cotton Boys School in Bangalore.
It's been close to 40 years since I entered the hallowed portals of my alma mater. I confess I muddled through school, without making too much of a splash. The topic of the lecture was a favourite of mine, "India and the Bomb". Since half the audience comprised senior school students, I struggled to make the topic relevant for them.
I told them that the atom bomb, the most destructive weapon mankind has ever built, continues to evoke awe and horror 67 years after the first explosion in 1945 by the USA. Whether India should build, test and stock the Bomb in its arsenal for war has been the subject of a raging debate, acrimonious controversy and troubling questions. The Bomb has shaped our nation's thinking on a range of fronts, whether economic, security, social, political, psychological or moral. It has impacted our relations with other countries and our standing in the world.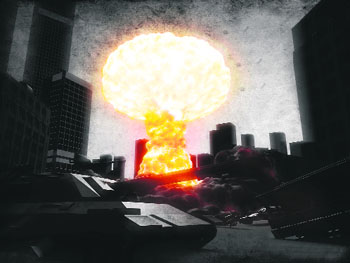 So why should my young friends care? Simply because with the press of a button — as the citizens of Hiroshima and Nagasaki saw in August 1945 — their life as they know it could be brutally snuffed out in a nanosecond. Our cities would be razed to the ground, our near and dear ones eviscerated in an instant. Those of us who survive the first flash would soon fall ill and die of various forms of cancer; the city itself would be unliveable for years till the radio-active fallout subsides.
Religious texts have a word for such a catastrophe: Apocalypse. The Mahabharata talked of such a destructive weapon — the Brahmastra — almost 4,000 years ago. It talked of "a single projectile, charged with all the power of the universe; an incandescent column of smoke and flame as bright as ten thousand suns. It's an unknown weapon, an iron thunderbolt. A gigantic messenger of death… Endowed with the force of thousand-eyed Indira's thunder. It is destructive of all living creatures."
The heat generated by an atom bomb is of the order tens of millions of degrees centigrade, equivalent to that found in the sun. The light it emits is so strong that you would be instantly blinded if you happen to see it even 5 km away. It generates gale force winds of over 300 km per hour, which flatten concrete buildings.
Fifty per cent of the energy from a nuclear explosion comes in the form of blast waves, a third in thermal radiation and the remaining 15 per cent in the form of highly toxic nuclear radiation that can cause debilitating cancer for those exposed to it. So even if thermal radiation doesn't get you, the blast would, and if you survive that, the nuclear radiation will take its toll.
The diabolical weapon is not the main cause of all our sorrows. The root cause is that despite all our efforts, the human race has never been at peace with itself. The ascent of man has all through been a history of conflict — of immense chaos and a fleeting cosmos. The universe it seems has always been restless — in a constant state of flux striving to attain a balance, an elusive immortality where time, space and energy merge into one infinite consciousness — to seek an end or the beginning of the end that might just well be the end of the beginning.
No one really seems to have the answers. For whatever it is that drives living beings, as in the universe, there is an unending cycle of creation and destruction, of good versus evil, of joy and sorrow, of triumph and tribulations, order and disorder… it appears as if we have been duelling ever since we became conscious of our consciousness, enacting an unending cosmic dance and drama.
I ended with the parable of Anguli Mala, the dreaded dacoit who wore the severed little fingers of his victims as a necklace in the forests of Taxila. When Gautama Buddha met him, Anguli Mala was struck by the absence of fear on his face.
Anguli Mala challenged Buddha to test his power. Buddha asked him to break a branch from the nearby tree. Anguli Mala laughed, breaking a branch and thrusting it in Buddha's face triumphantly. Buddha merely smiled and said, "Now go and fix the broken branch back on the tree." Anguli Mala realised that he was in the presence of an enlightened being, and became a disciple of Buddha.
It is the power of construction, and not destruction, that I requested my young audience to seek, and find answers in their lifetime, something our generation seemed to have failed in. We have been better at building the killing machines.
raj@tribunemail.com