Last word: M. Mangapati Pallam Raju
A gift of big shoes, now to fit them
By Aditi Tandon
I am daunted by the stature of my predecessors and humbled by the trust the Congress leadership has reposed in me. HRD is a huge responsibility. The portfolio is all about shaping the lives of people…. I hope to meet expectations.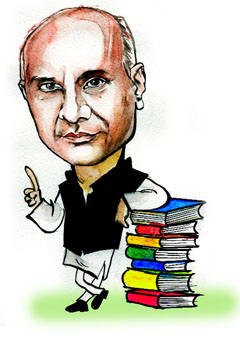 Illustration by Sandeep Joshi
As the Prime Minister last month reshuffled his team to give it a younger look, one man who sat straight faced in the front row reserved for new Cabinet Ministers was M. Mangapati Pallam Raju, India's 30th Human Resource Development Minister.
His lack of airs was in contrast to the feat he had pulled off in being elevated from Minister of State for Defence to full Cabinet rank in the Education Ministry, the best development portfolio anyone can seek in the government. It was termed by observers as a "double promotion".
What is it that worked for Raju, the mild mannered, soft spoken, three-time MP from Andhra Pradesh's Kakinada segment, known in the Defence Ministry as a "man of few words"? Kapil Sibal, his predecessor in the HRD Ministry, was known for traits that were just the opposite.
This contrast in manner could well have been reason for the decision to push Raju to HRD, where key legislations are stuck for want of political consensus. Raju is known for his deliberative, consultative skills.
Mission education
Being a focused worker, Raju would be expected to forge consensus on the government's education agenda ahead of the 2014 Lok Sabha elections. He admits, "We need to take everyone on board on these Bills. We must convince everyone that these are for the future generations and the credit would be collective".
Out of the 13 Bills that Sibal pushed to liberalise the sector by allowing the entry of foreign education providers, setting up of educational tribunals for dispute resolution, establishment of accreditation authority for institutions and an overarching regulator for the sector, nine are facing the Opposition hurdle. Former UPA ally TMC has also described most Bills as "anti-federal".
Aware of the legacy of Sibal, who wanted to "do to education what Manmohan Singh did to the economy in 1991", Pallam Raju says the "good work of his predecessor would be carried forward and consolidated". The multiple challenges confronting him are implementation of the Right to Education, improvement of school learning outcomes and teacher training.
On the higher education front, he must build universities. India needs 1,000 universities and 50,000 colleges to meet the target of Gross Enrolment Ratio of 30 per cent in higher education by 2020. Right now, the ratio is 18 per cent, which means only 18 students passing Class XII actually reach college.
"We have to create infrastructure. Unprecedented efforts have been made in the past by building new IITs and IIMs. We need to strengthen this," says Raju, who has other plans as well. An engineering graduate from Andhra University and later an MBA from Temple University in Philadelphia, he wants children to learn the value of heritage. "We need to reinforce moral values in students and see that teachers are imparting these."
Tall order
While he brings a lot to the table in terms of new ideas and grounding, Raju knows he will be keenly watched for the sheer legacy of the HRD Ministry, which has been held by stalwarts such as Maulana Abul Kalam Azad, Humayun Kabir, P.V. Narasimha Rao, V.P. Singh, Arjun Singh, Atal Behari Vajpayee, Murali Manohar Joshi and Kapil Sibal.
"I am daunted by the stature of my predecessors and humbled by the trust the Congress leadership has reposed in me. It is a huge responsibility. The portfolio is all about shaping the lives of people…. I hope to meet expectations," says the minister, who has begun to talk business.
He said on assuming office that only 17 per cent of Indian graduates were industry ready and 30 per cent trainable. "The rest are not of the standard the industry requires. We must develop academic-industry linkages to address this challenge," Raju said.
While he has gotten down to getting briefed by officers on school, technical and higher education, sceptics are already debating his chances of success. "He does not have the political substance of his predecessors. The country does not know what he thinks about major social challenges like inclusion. He is there because he fits the Congress' caste equation in Andhra," says a political observer.
Politics of power
Raju is a Kapu, a dominant caste from costal Andhra's East Godawari district. The Kapus comprise around 14 per cent of the state population and matter for the Congress, which must fight Jagan Mohan Reddy's growing influence in Andhra. That's why the new Cabinet has Chiranjeevi, another Kapu.
But politically speaking, Raju is no novice. His grandfather was a state minister in Andhra and his father M.S. Sanjeevi Rao an Electronics Minister in the Indira Gandhi Cabinet.
It was when Rao was indisposed due to illness that he called his son, then employed with a computer firm in Norway, to inherit the family's political legacy. Soon, Raju, at 26 years, found himself in the ninth Lok Sabha (1989) as its youngest member. He caught the attention of Rajiv Gandhi and his proximity to the Gandhi family continued after Rajiv.
Many believe he has entered the Cabinet because of Congress chief Sonia Gandhi's blessings. Whatever be the case, his task is cut out. He must shape Sibal's reform agenda — by successfully conducting the common test for central engineering institutes next year; extending the RTE's March 31, 2013, deadline in a way that states can achieve the targets; and create systems to test learning outcomes of students.
Transition time
People who know Raju say his transition from the closed-door style of functioning of the Defence Ministry to HRD would be smooth, though they add he would now require a more outward-looking profile to make a difference. "Unlike in Defence, where an inward profile was good enough, in HRD, Raju would have to go out and talk. He would have no problems because he is a simple man to get along with, has great grasp of concepts and the ability to work long hours. Even at school he was both studious and playful," says Raju's childhood friend Kishore Kothapalli, an industrialist in Hyderabad.
As Air Marshal BN Gokhale (retd), former Vice Chief of Air Staff who has seen Raju work, says, "He is a highly educated man with tremendous capacity to listen and absorb things. In Defence, he brought a culture where people could express their views freely. He built dialogue. This consultative approach and a habit of not pushing things will help him in HRD."
His family — wife Mamatha and children Vahini and Jatin — would vouch for his values, considering he balances work and life well and cares a lot about his wheelchair-bound father. However, settled in Hyderabad, they don't get to see him often. As Raju confesses, "I am accused of being an absentee father and an invisible husband".
The good part is, he has never been accused of being an absentee minister, yet has kept to himself. A senior Congressman says, "As MoS in Defence, Raju retained his sense of right and wrong. He attended huge meetings, including defence acquisition, but was never flashy about what he knew. He understood that any publicity is not good publicity."