Delegation woos city traders
Premier of South Australia Jay Weatherill and his team interact with local businessmen
Tribune News Service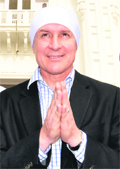 Premier of South Australia Jay Weatherill in Amritsar. A Tribune photograph
Amritsar, November 18
With a view to attract investment in their province, South Australia, its seven-member visiting delegation, led by its premier Jay Weatherill, interacted with local businessmen here last night.
Addressing industrialists and businessmen, the premier said his province was situated in the southern central part of Australia and its economy centred on the agricultural, manufacturing and mining industries.
South Australia's largest employment sector was health care and social assistance followed by manufacturing. The manufacturing industry consisted of automotive and component manufacturing, pharmaceuticals, defence technology and electronic systems. South Australia's economy relied on exports more than any other state in Australia. Production of agriculture, horticulture, aquaculture, fisheries, petroleum products and manufacturing was a mainstay of the industry. Other major industries included meat and meat preparations, wind energy, wheat, wine, wool and sheepskins, machinery, metal and metal manufactures, fish and crustaceans, road vehicles and parts and petroleum products.
Answering queries to the satisfaction of participating businessmen and potential investors, Jay assured them of making available all facilities, including money and land transfer, in the shortest possible time. He added that a plenty of land was available, including for agriculture, in South Australia.
Coordinator of the investors' meet Satish Kumar Bansal said Adelaide was the capital of the province, which was also the most populous part of it.
Among others Rajiv Setia from the rice industry, Karan Verma from the hospitality industry, Satbir Nijjar from the agro industry, Sachin Khanna from the textile industry took part in the meet.
Other members of the visiting delegation included Lois Boswell, Deputy Chief of Staff, premier's office, Jarrad Pilkington, Media Adviser to the premier, Brian Hayes, Special Envoy to India, Raymond Spencer, Chairperson, Economic Development Board, Tim Harcourt, International Adviser to the premier, Kingsley David, Director, Invest, in South Australia, and Goska Serafin-Rai, Manager, India and Emerging Markets, DPC.