75-yr-old tree from China a big draw for tourists at Company Garden
Ajay Ramola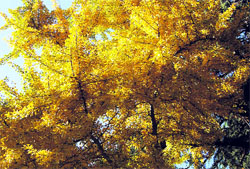 Ginkgobioloba, a rare tree from China, that was planted at Company Garden in Mussoorie 75 years ago.
Mussoorie, November 20
Ginkgobioloba, popularly called as Maiden Hair, the rare tree from China, known for it's medicinal values and planted at Company Garden near Happy Valley nearly 75 years ago, is attracting tourists and botanists alike with it's benign beauty in Mussoorie.
Ginkgobioloba tree, that is believed to be related to modern Ginkgo, dating back 270 million years, attracts geologists from all over the world. The tree described by Charles Darwin as a living fossil is the oldest surviving tree species.
Bimol Sharma, director of Yasmin Fernery and caretaker of Company Garden, shedding light on the history of the the rare tree from China, said that the tree was brought in India by Lord Dalhousie and from there it found it's way with the help of unknown British Railway officials in around 1937 to Company Garden. The tree here has a rare distinction of being one of the seven of the trees that are still surviving in India presently.
The other six trees of the same species can be found at Bhopal, Jabalpur in Madhya Pradesh, Himachal Pradesh, Kalimpong in Darjeeling and it's presence has also been reported in Haryana presently.
The Ginkgo tree is classified in it's own division. Ginkgophyta is one of the best-known examples of a living fossil. Sharma said that the Ginkgos trees were tall and slender and adapt well to the urban environment in both plains and mountains alike and rarely suffer from disease problems with few insect attacks. During autumn, the leaves turn a bright yellow, then fall, sometimes within a short space of time. Some specimens of the tree are claimed to be more than 2,500 years old. A 3,000-year-old Ginkgo has been reported in Shandong province in China. Sharma also informed that the tree was also known for its tenacious qualities.
The fact that in Hiroshima, Japan, where four trees growing between 1-2 km range from the 1945 atom bomb explosion, were among the few living things in the area to survive the blast, while almost all other plants (and animals) in the area were destroyed. The Ginkgos, though charred, survived and were soon healthy again and are alive till today. The other important fact about the tree is that it contains remarkable medicinal qualities. Sharma said that the studies have revealed that Ginkgo extract may have three effects on the human body, improvement in blood flow (including microcirculation in small capillaries) to most tissues and organs; protection against oxidative cell damage from free radicals; and blockage of many of the effects of platelet-activating factor (platelet aggregation, blood clotting) that have been related to the development of a number of cardiovascular, renal, respiratory and CNS (Central Nervous System) disorders.
However, some contradictory studies have revealed that Ginkgo may have some undesirable effects, especially for individuals with blood circulation disorders and those taking anticoagulants such as ibuprofen, aspirin or warfarin.
It is also said that Ginkgo should also not be used by people who are taking certain types of antidepressants or by pregnant women without first consulting a doctor.
Bimol Sharma added that the state government should initiate more research on the tree and promote the plantation at the grand level as it could become a major bread earner in years to come.