M A I N N E W S
In Punjab, Pawar hints at hike in wheat MSP
Tribune News Service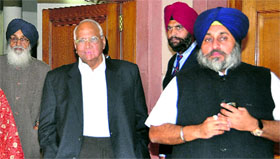 Union Agriculture Minister Sharad Pawar comes out after his meeting with CM Parkash Singh Badal and Deputy CM Sukhbir Singh Badal. A Tribune photo
Ludhiana, November 20
Union Minister for Agriculture and Food Processing Industries Sharad Pawar today indicated at a hike in the minimum support price (MSP) for wheat.
While the Commission for Agricultural Costs and Prices (CACP) had recommended the freezing of the MSP for wheat at the last year's price, the Ministry for Agriculture was in favour of raising the MSP as the input costs had increased, said Pawar while talking to mediapersons here.
He said a decision on raising the MSP would be taken within 10 days.
The MSP issue is likely to figure in the winter session of Parliament, which begins on November 22.
Earlier this month, the government had referred back the CACP suggestion on freezing the MSP for wheat at last year's price of Rs 1,285 per quintal. The CACP is a nodal body that advises the government on price policy of major agricultural commodities. The government fixes the prices of these commodities on the basis of the CACP recommendations.
The CACP had recommended the price freeze, taking into account the surplus stock in the central pool. A freeze on wheat MSP is a major concern for farmers in Punjab.
The minister, while defending the government's foreign direct investment (FDI) policy, said it would benefit farmers. Annual losses to the tune of Rs 40,000-Rs 50,000 crore occur in the supply chain from farm to market.
With the entry of the FDI, investment in cold chains will gather momentum and losses will reduce. The apprehension that the FDI will be detrimental to the interests of small retailers is unfounded as the FDI is restricted to cities with at least 10-lakh inhabitants, he added. Pawar was here for the 7th National Conference on KVK (Krishi Vigyan Kendra)-2012, organised jointly by the Indian Council of Agricultural Research, New Delhi, and Punjab Agricultural University (PAU).