India big part of my plans: Obama to PM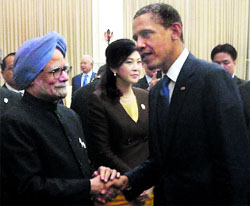 Phnom Penh, November 20
"India is a big part of my plans," US President Barack Obama said today as Prime Minister Manmohan Singh congratulated him in person on his re-election.

PM Manmohan Singh and US President Barack Obama at the East Asia Summit in Phnom Penh. — PTI

Chadha brothers' killing: 4 more
New Delhi, November 20
Four persons working with liquor baron Ponty Chadha were arrested today for alleged trespass on the Chadhas' Chhatarpur "parental" farmhouse on Saturday. The farmhouse was in possession of Ponty's younger brother Hardeep and was the scene of a bloody gunbattle that ended with the killing of the two brothers.
Uttarakhand removes Ponty aide Namdhari from minority panel
Dehradun, November 20
The Uttarakhand Government has removed Sukhdev Singh Namdhari, chairman of the Uttarakhand Minority Commission, from his post for his alleged involvement in the double murder case of liquor baron Ponty Chadha and his brother Hardeep Chadha in New Delhi last Saturday.