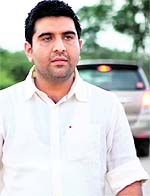 Growth theory
American author John Maxwell had a couple things to say about 'growth'. The one that applies to the Punjabi film director Amit Prasher goes like this--If we are growing, we are always going to be out of our comfort zone. Punjabi cinema is definitely riding up the ladder, pretty fast as well. As a side-affect it is also making people related to this genre to do things out of the box. Instead of following the hit formulae, actors, producers and directors in Punjabi cinema have taken the word 'different' really differently!

Get Going: Punjabi film director Amit Prasher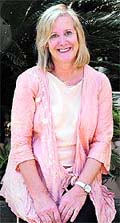 Picture perfect
In a society that is academically driven, it would be interesting to see how picture books will be accommodated. These have been part of the Western education culture and also finds a place of prominence in Australia, where parents of a newborn are gifted one by the government. But when it comes to India, picture books are still considered pages wasted with colours and figures. That's what brings Frane Lessac from Australia to India; so she picks up the book, The Wonderful Towers Of Watts, and begins to explain the relevance of picture books, at a workshop in Rock Garden.


Colour Block: Frane Lessac
Towards Nirvana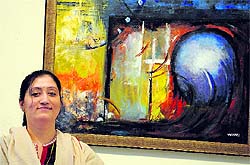 She talks about transformation, rumblings inside that she can witness as she moves among the array of bright colours, a blank canvas and some thoughts. Vandana Malhotra with her exhibition Inception at Punjab Kala Bhawan finds herself in a different zone altogether. Capturing the five different stages of life in her paintings, Vandana who is a freelance artist and illustrator for children's book, dedicates each painting to a phase.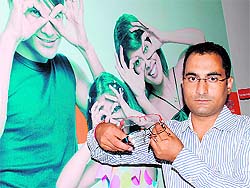 Eye contact
Titan Eye plus announces up to 40 per cent discount offer on its frames and sunglass collections. The offer is valid from Nov 20 across all Titan Eye Plus stores in Chandigarh. This offer is valid across the entire range of frames from in-house brands like Titan, Eye+, Dash and Cabana sunglass range from Titan Eye Plus. Customers can also avail this attractive offer on a wide of international brands.
clear view: Ravi Kant exhibits the new range of eye glasses

fashion funda

Tailored to perfection
What fashion designer Arjun Saluja brings on the ramp goes with what he thinks of fashion and the Indian fashion industry. He doesn't believe in following conventions, focuses more on the cut rather than on colour or bling factor. This was evident in the latest collection of his label, Rishta, at the WLIFW.
Cut work: Arjun Saluja
Par Excellence
The Role of the Arms
The golf swing is basically composed of two elements – the up and down action of the arms and the turning motion of the body. The body is the power producer and the arms transfer the energy to the ball. One could say that the body is the engine of the swing and the arms are the transmission which transfers the power to the wheel which is the club head.
Master Chef
Crumbles, cobblers and carpenters...
I first heard about a dessert named Cobbler during my stay in England. Needless to say I was aghast! Why would any dish be called a cobbler, I wondered. Would leather be its core ingredient? Worse still, would Britain next inflict on me a dessert called Carpenter ?
Doc Talk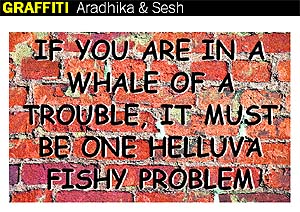 For a carefree life
This is the time of the year when freshers at college are just about settling into the new life, and experiencing a whole new freedom. Girls in this age group sometimes tend to eat poorly to maintain a slender figure. Not eating a balanced diet complete with the essential fats plays havoc on one's health.
Master Chef
We have all been reading in English novels about the sophisticated dinners where the perfect ending comes with small sips of some heavenly liqueur! But how about making it at home and surprise your guests? It can be made and stored also. So, be the "much-talked about host by serving this one!