Panwar slams Cong, BJP
Dehradun, November 21
President of the Uttarkhand Kranti Dal (P) Trivender Singh Panwar slammed the BJP and the Congress in the state for hobnobbing with mafia linked with liquor, real estate and quarrying business.
Tennis tournament quarterfinal matches
Dehradun, November 21
Quarterfinal matches were played today in the All-India Talent Series Tennis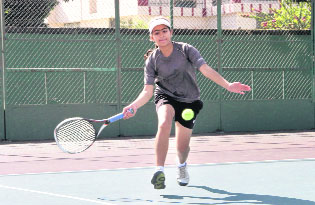 Tournament-2012 (U-14 and U-16 boys and girls) being held at Shanti Tennis Academy here. In the U-14 boys' quarterfinal matches, Manik Dabar (Uttarakhand) beat Sagar Bains (Punjab) 3-6, 6-2 and 6-1; Mohit Sahrawat (Delhi) beat Sankat Tomar (Delhi) 7-6 and 6-4; Rishab (Chandigarh) beat Devashish Singh (Manipur) 6-2 and 6-2 and Sabrang (Chandigarh) beat Paramjeet Singh Deol (Delhi) 6-0 and 7-3.
A player in action during a match in the All-India Talent Series Tennis Tournament-2012 in Dehradun on Wednesday. Tribune photo: Vinod Pundir

DBA felicitates Doon DM, SSP
Dehradun, November 21
The Dehradun Bar Association (DBA) here today felicitated District Magistrate BVRC Purushottam and SSP Kewal Khurana. DBA president Surinder Pundir urged the District Magistrate to improve the functioning of the district administration.
Class IV employees demand benefits under 6th pay panel recommendations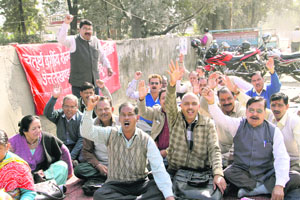 Dehradun, November 21
Uttarakhand class IV employees, under the aegis of the State Government Class IV Employees Federation, today staged a dharna outside Vidhan Sabha here. The class IV employees in the state are demanding benefits under the 6th Pay Commission Recommendations since January 1, 2006.


Class IV employees of the state government stage a dharna in front of the Vidhan Sabha in support of their demands in Dehradun on Wednesday. Tribune photo: Vinod Pundir

Football coaching camp from today
Dehradun, November 21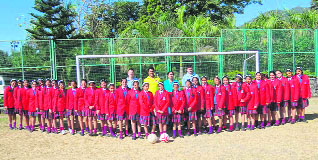 Unison World School will be organising its 6th International Football Coaching Camp in collaboration with Premier India Football Academy (PIFA), Mumbai, from November 22 to 25. A traditional warm welcome was given to two coaches from England in the morning school assembly today.
Girl students of Unison World School with two British coaches, who have come for an orientation camp to Dehradun.

PNB distributes sweaters to children
Dehradun, November 21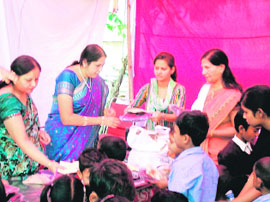 Punjab National Bank today distributed sweaters to students of Primary School, Deepnagar, here. Chairman of Prerna, a voluntary organisation of PNB, Pushpa Kamat, said PNB had been engaged in a number of charitable works as part of its corporate social responsibility. She said many government schools in Dehradun had been provided with furnitures, fans, school uniforms and other items.
Members of Prerna, a voluntary organisation of Punjab National Bank, distribute sweaters to students of Shiv Shiksha School at Deepnagar in Dehradun on Wednesday.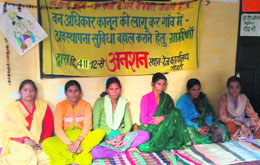 Dharna by Kunao villagers continues
Dehradun, November 21
The dharna being staged by Kunao villagers in Rishikesh seeking implementation of the Forest Rights Act entered the 21st day today. A participant of the dharna, Draupadi Devi, said after the creation of Rajaji National Park, Kunao villagers had suffered the most.

Women of Kunao village, near Rishikesh, stage a dharna on Wednesday.


Carpeting work of four-lane road begins
Dehradun, November 21
The carpeting work of the four-lane road from Mobbawala to Niranjanpur Mandi, which will be taken up by the National Highway Authority of India, was inaugurated by State Minister Dinesh Aggarwal today.