Traffic jams become routine affair in city
Dharmendra Joshi
Tribune News Service
Jalandhar, December 9
Traffic snarls have become a routine on almost every road in the city. While the Rama Mandi, PAP and Chogitti chowks on the national highway in the city witness traffic jams a number of times, same is the condition of the roads around Kishanpura Chowk, railway road and on Old Circular Road consisting Mai Hiran Gate, Phagwara Gate, Company Bagh, Jyoti Chowk and Jail Road.
Inadequate parking lots, deployment of negligible number of traffic policemen for effective handling of the situation, increasing number of vehicles day by day, lack of proper traffic sense among public, temporary encroachments by shopkeepers and halting buses and auto-rickshaws on unauthorised places for taking passengers are the main reasons for traffic snarls.
According to information, there are only three proper parking lots near Narinder Cinema, PNB Chowk and Milap Chowk in the city. The Municipal Corporation (MC) has declared several roadsides as parking lots, but all are not sufficient for the city residents to park their vehicles.
Thus, they are left with no option, but to park their vehicles haphazardly, which creates hindrance in the smooth flow of traffic. As a result, the vehicles move at a snail's pace.
Further, the negligible number of traffic policemen, as compared to the current population of the city that has been pegged at 13 lakh, is aggravating the problem of traffic jams.
Currently there are around 140 traffic policemen in the Jalandhar Commissionerate that too less than the sanctioned 146 posts. The 146 posts were sanctioned in 1982 when the city population was only 7 lakh.
The main reason for the problem of traffic jams at the PAP and Rama Mandi chowks is the halting of buses. Similarly, the construction of a flyover at the Chogitti chowk is creating hurdles in the smooth flow of traffic.
Further, there is no respite from traffic jams at Old Circular Road, despite banning the entry of vehicles bigger than the size of a jeep during the daytime. Temporary encroachments by shopkeepers and lack of parking lots on the road are the main reason for that.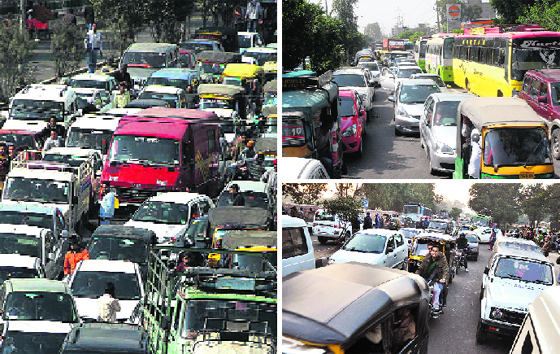 (Clockwise from left) Traffic jams at Nakodar Chowk, PAP Chowk and Mai Hiran Gate in Jalandhar. Photos: Sarabjit Singh
Tips for preventing traffic snarls
A social activist, Rajat Mohindru, suggests several steps for preventing traffic snarls.
Several feet wide footpaths exist on various roads. They should be either be abolished or reduced to 1 foot or 2 feet to widen the roads for the smooth flow of traffic.
The public transport system should be strengthened on the lines of Chandigarh to reduce personal vehicles on roads.
The residents should develop traffic sense and obey traffic rules. Shopkeepers should also not put their goods on the roads.
Official Speak
The traffic police is doing its best to tackle the snarls-ups. The problem of traffic jam at the PAP and Rama Mandi chowks will be solved once for all after the construction of the flyover. For the time being, traffic policemen have been deployed there to prevent buses from halting for long to ensure smooth flow of traffic. As far as old city is concerned, main reasons of traffic jams are lack of parking places and temporary encroachments by shopkeepers. We keep on taking up the matter with the MC for that from time to time. Besides, traffic policemen are deployed there for minimising traffic jams in the old city.
— Sukhdev Singh, ADCP (Traffic)
"We are identifying more parking places after consulting with the traffic police in a phased manner in different parts of the city. We have already identified a parking lot beneath the bus stand flyover and the taxis parked at stands near the Namdev and BMC chowks will be shifted there. A meeting in this regard with the traffic police and the leaders of taxi unions have already been done. Similarly, a new parking place is being identified near Jyoti Chowk. The Tehbazari Department is taking appropriate action against the shopkeepers who have encroached upon the road by placing their goods there.
— Vinay Bublani, Commissioner, MC