Spirit of yuletide spreads across state on Christmas
Tribune Reporters
Dehradun, December 25
Churches across the city reverberated with prayers and joyous celebrations of the birth of Jesus Christ on Christmas today. Worshippers lined up on Tuesday at St Francis Catholic Church, St John Methodist Church and CNI church to participate in the Christmas prayers.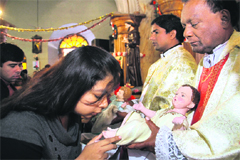 A girl kisses the feet of Baby Christ at a prayer meeting at St Francis Church on Christmas in Dehradun on Tuesday. Tribune photo: Vinod Pundir
At St Francis Catholic Church, Chief Priest Father Bernard Daniel prayed for lasting peace in the country. "On this Christmas day, let us rejoice in the birth of Jesus Christ and how God became man for the upliftment of mankind," he said.
The interiors of St Francis Church built in 1910 were decorated with flowers and stars. The exterior of the church was decorated with light that came alive with the sunset.
The mass prayer started at 11 pm yesterday at St Francis Church in which Governor Aziz Quereshi also participated. The grotto of St Francis Church was beautifully decoratred with the Nativity scene, where worshippers lit candles and also offered prayers.
"Along with celebrations, we do not forget to donate warm clothings and food for the poor," said Mark, a 14-year-old student.
Hindi carol songs singing team, led by Tajwar Mani and his team members, sang hymns heralding the birth of Jesus Christ.
"Christmas is a truly magical season, bringing families and friends together," said Rebecca, a visitor from New York. The prayers were also held at St John Methodist Church, which were led by Parish Priest JP Singh. All churches in the city were lit up with lights. The yuelitide spirit was clearly visible across the city with shops decorated with Christmas trees and stars. Santa Claus was also seen distributing sweets at Astley Hall and Rajpur Road. Bakery shops saw a sudden increase in the sale of plum cakes, Christmas cakes and black forest pasteries.
MUSSOORIE: Holy hymns and carols reverberated at churches on the occasion of Christmas here today. The churches across the town were decorated with flowers and lights. Various stalls of eatables and decorative items were also put up outside the churches. Christmas trees decorated with ornamental lights and laden with gifts were added attraction in the churches here.
People of different communities also joined in the festivities and offered prayers on the occasion.
The main prayer was offered at 8.30 am, which was followed by the second prayer at 10 am. The Pastors and Bishops delivered sermons in various cathedrals and churches of different Christian denominations in the town.
Pastor Nand Kishore presided over the midnight Christmas mass at Central Methodist Church and prayed for peace and harmony among all communities. He read out verses from the Bible. In his sermon, he appealed to the people to uphold the ideals of universal love and brotherhood.
The Christmas cake was also cut along with carol singing, which witnessed participation of a large number of tourists.
The cake was also cut at Jay Pee Residency Hotel and gifted to Bill Aitken, Tom Alter and other writers of repute to mark the occasion. Leaders of various political parties also greeted the people on Christmas.
American families at Woodstock School also celebrated Christmas with enthusiasm. Special eateries such as apple pies, cookies baked in the shape of Christmas trees and hot ginger cider were served on the occasion. Carol singing remained the hallmark of the day.
HARIDWAR: Christmas was celebrated with fervour and gaiety here today.
Celebrating the birth of Jesus Christ, people gathered at churches and attended midnight mass and offered prayers.
Contrary to the normal perception with Haridwar being a Hindu pilgrim city, the festival of Christmas was celebrated with enthusiasm across the city with much enthusiasm.
It is a rare sight as just next to a temple or ashram one finds a Church and pundits, maulvis, bishops performing their respective religious rituals with equal freedom.
City's oldest church Reformed Presbyterian Church was founded in 1904. It is situated at Dev Pura, which is one of the most visited churches in the district.
Father Johnson James, Wilson James of BHEL church and Pastor Williams of Devpura Church read the Bible, giving an insight into life and teachings of Jesus and Mother Mary.
They also urged the people to follow ideals of non violence, love, peace, brotherhood and communal peace to make world a better place.
Rohan Rawat, a class IX student of Ann Mary School, Dehradun, said it was the first time he had visited a church in the state and felt nice while offering prayer and lighting the candles.
PITHORAGARH: Mass prayers were held, carols were sung and cultural programmes depicting the birth of Jesus Christ in Bethlehem were staged in Methodist churches across the Kumaon region as the Christmas was celebrated with enthusiasm and revere in the region.
In Nainital, a large number of tourists along with the locals reached at morning prayer at two main churches of the tourist town. "More than 1,500 Christians of the Nainital town attended prayers at Methodist Church, built in 1858 and one of the oldest in Asia," said Ashutosh Dani, pastor of the Methodist Church. Prayers were also held in the lone Catholic church of Nainital, which was built in 1907. "The Methodist believers are more in number in the town than Catholic followers," said Dani.
In Almora, more than 500 Christian devotees along with believers of other religions, including a large number of Hindus, gathered for prayer at Methodist Church near Pokhar Khali and took part in prayers and carol singing in the morning hours. "We also staged programmes on the birth of Jesus Christ and staged several programmes on the incidents that followed the birth of Christ," said Rajendra Lal, pastor of Methodist Church at Almora. Christmas was celebrated in Pithoragarh with prayers held at the main Methodist Church near the town, followed by several cultural programmes based on the birth of Jesus Christ. "The Christmas programmes in Pithoragarh began from December 12 and will continue till the last date of the year," said Habil Singh, member of the management committee of the Methodist Church at Pithoragarh.
Prayers were also held at Victory Church at Sandhura in Berinag and Abbot Mount at Lohaghat in Champawat district along with several churches in Ranikhet and Tanakpur. "The church constructed by Miss Merry Reed in 1891 at Chandak in Pithoragarh wore a deserted look even today as no member of the Christian community reached here to pray. The campus has been deserted ever since it was left by the leprosy mission, which owned the campus, in 1996," said Shankar Ram, a resident of Chandak town.