M A I N N E W S
In trouble for caste remarks, Nandy leaves Jaipur Lit Fest
Vandana Shukla/TNS
Jaipur, January 27
On the 64th Republic Day, it was only befitting for delegates at the Jaipur Lit Fest to deliberate upon the ideas that constitute a republic. In the very first session, panelists Patrick French, Ashis Nandy, Tarun Tejpal and Richard Sorabji, all well known in their respective fields, were discussing the utopias and dystopias and the troubled path to modernity.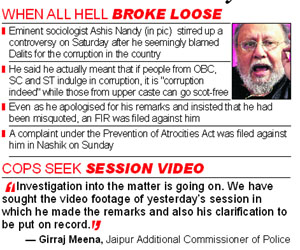 The engaging talk moderated by Urvashi Butalia would have remained so, but for the many republics within the Republic of India that felt uncomfortable about a few facts voiced by a panelist on the dais.

In response to a question by Tarun Tejpal, eminent sociologist Ashis Nandy drew an analogy to deconstruct the layers of corruption prevalent in our society. This analogy eclipsed the day's literary discourse. By evening, cases were filed against Ashis Nandy by the SCST Commission for hurting the sentiments of the community.





In a hurriedly-called press conference, Nandy repeated what he had said in the morning session to clear the air, "This is not what I meant or what I wanted to say. This is what actually transpired," he clarified. "I endorsed the statement of Tarun Tejpal, Editor of Tehelka, that corruption in India is an equalising force. I do believe that a zero corruption society in India will be a despotic society."





On the sidelines

* Authors from Punjab such as Navtej Sarna, Kishwar Desai, Shauna Singh Baldwin and Ravinder Singh talked about what constitutes Punjabiat in their respective writings

* Questions were raised as to why translating into English becomes paramount whenever the issue of translation is discussed. Why is it that the 22 other Indian languages that have far greater readership do not invite enough attention?

* Madeline Miller, winner of the Orange Prize for Literature and author of 'The Song of Achilles', spoke about why authors have to go back to classics to understand the human world in a better way and to connect to the contemporary times. Her novel is a bestseller

* In a session 'Collaborations in publishing', representatives from small and big publishers, individuals and the corporate publishing world voiced their anxieties about the growing digital world where self-published successful books are demanding that the entire publishing industry reinvent itself- perhaps by way of collaborations, or be prepared to get eclipsed by the web world, as is proven by Amazon

As things happened, Nandy said, in response to Tejpal's question, that if people like him or Richard Sorabjee (another panelist) wanted to be corrupt, they would possibly send his son (Richard's) to Harvard giving him a fellowship and he could send his daughter (Nandy's) to Oxford in return. No one will think of it as corruption. Indeed, it will look like supporting talent, he said.

But, Nandy said, when Dalits, tribals and the OBCs are corrupt, it looks very corrupt indeed. "However, this second corruption equalises. It gives them access to their entitlements. And so, as long as this equation persists, I have hope for the Republic," he had said. This latter comment of his was interpreted as saying that Dalits were corrupt.

Nandy attempted to strike a truce by saying, "I hope this will be the end of the matter. I am sorry if some have misunderstood me. Though there was no reason to do so. As should be clear from this statement, there was neither any intention nor any attempt to hurt any community. If anyone is genuinely hurt, even if through misunderstanding, I am sorry about that, too," he concluded.

But, things did not cool down and the search for a more liberal and vocal society at the literature festival was once again pushed to the wall.

On Sunday, Nandy was absent from the session he was supposed to address. Later, sources said the in-charge of Jaipur's Ashok Nagar police station where the case against Nandy was registered had proceeded on leave. Nandy, obviously, left for Delhi to let things cool down even as a fresh complaint was moved against him in Nashik and the police sought video footage of his

yesterday's session. The five-day Jaipur Literature Festival is to end tomorrow.

Against this backdrop, the festival saw a unique cultural collaboration between two diverse cultures. Indian Council for Cultural Relations vice-president Syed Shahid Mahdi unveiled the Arabic version of the Ramayana translated by famed Lebanese poet Wadi-al-Bustani.

Another session on gay literature reverberated with diverse and more assertive voices that are breaking free of the gender stereotypes, without an apology. But, the dangers of following a Western model for solutions was cautioned by authors such as Devdutt Patnaik, who has sourced a number of gay references from our myths and epics.

"For all our problems, we have a tendency to copy the template, structure and framework that comes from the West. The same goes for gay literature, this is where the society has to think and find its own unique way for accepting the different," said Patnaik.

Languages too took centrestage -- how Sanskrit could be infused with more contemporary content and if the death knell for grammatical structure of our spoken languages is a reality that cannot be changed received serious concern. At the end of the second day, the focus had turned back to literature and for building up hope for a better and liberal society.