Gifted Assamese singer doles out soulful music at concert
Aparna Banerji
Tribune News Service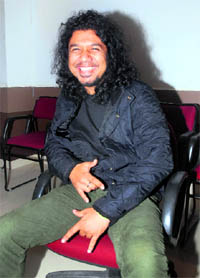 Inborn talent: Papon Tribune Photo: Malkiat singh
Jalandhar, February 17
Some artists are gifted, others insightful. While talent is inborn, insight is inculcated over time, but it is difficult to find artistes blessed with both talent and a grounded understanding of the arts (contemporary and ancient) in equal measure at a young age.
Coming from the lush green environs of Assam, Angraag Mahant is one of the few artists today, who maintains the tricky balance between understanding the need for commercial and electronic sounds and passionately retaining his loyalty to the folk Assamese roots, that he grew up on.
This wisdom, coupled with his ceaseless ability to belt out something new every time, makes him one of the hottest sensations on the indie music arena today.
Born to legendary Assamese folk singer Khagen Mahanta and mother Archana Mahanta, his parents' musical background and understanding gave him a firm basis in music - both classical and folk.
While his maiden musical outing was with his Assamese folk album Junaki Raati in 2004, the second - Sinaki Osinaaki came out in November 2009 and his other regional albums include Rangphul (a Bihu record), Gomeseng and Phagunor Gaan.
His first taste of fame came with the TV series Dewarists - which earned acclaim for portraying rare musicians and memorable collaborations in fresh settings - featuring artists both from the Indian hinterland as well globally known Grammy awardees.
While Papon shared space with Rabbi Shergill in the poignant episode 6, his Bollywood outings in films like Dum Maro Dum, I Am Kalam and recently Barfi and Inkaar got him much deserved popularity.
He was also featured in the Coke Studio and his hit signature song for the MTV show Roadies just goes on to show the extent to which his musical ambit has grown - from a folk icon in Assam to a cult hit among youth across the nation.
As he talked to The Tribune on the sidelines of the Coke Studio event in Jalandhar, what unfolded was a man blessed with charming wit and a deep love for his roots.
Excerpts:
On the Punjabi touch and The Dewarists:
Though my first Punjabi collaboration was with Rabbi in The Dewarists, I have always loved Punjabi music since childhood. I have been a huge Jagjit Singh fan since childhood.
Roots and the mainstream:
I grew up in the house of an Assamese folk legend (father). Since childhood I was exposed to the intricacies of music, which have historic roots. I started with Assamese and owing to my parents I got exposed to all kinds of folk - Punjabi, Rajasthani, Nepali. While I begun with the music of the North East, I do realise that there is a need to make our music more interesting and viable in the context to today's larger scene. It cannot stay in its respected (yet obscure) corner forever, it needs to get to the mainstream.
East and West:
Punjabi music is everywhere and it is addictive. But while I do not deny its appeal and charm, I do believe that Punjabi's similarities with Hindi somewhere help it to be popular. When one sings in Oriya or Assamese, however, the public has no clue.
Bollywood:
Given the kind of music I was earlier practising, Bollywood music is an altogether different texture. It was a requirement as well and my sensibilities coupled with Bollywood created a strange but interesting space of a different kind.
Own albums Vs singing for others:
These are the different stories I tell. While in my album, I tell my story, my way, in a film, I narrate someone else's story.
On Baul or Rabindra Sangeet:
I have not yet done music strictly in these disciplines but I am keen to get into different zones. Baul is inspired by the ancient Gwalpuria music disciplines of Assam. Bhatiali, Nazurul Giti and the like are very old disciplines. And the music from Gwalpara akin to Baul, is much about songs of life, nature, health, spirituality which have constantly figured in my songs.
Do you consider yourself in a privileged position given your understanding of music and popularity?
I should say yes to that. But I feel I have been blessed with parents who taught me that it was most important to be deep rooted, sensitive and good human being. They were well read and grounded. They travelled the world (reminds me of stories I grew up hearing of merchants who travelled, carrying salt). Their approach and whatever they had taught me have helped me in my search for honest music.
A harmful present-day trend:
Going for 'chalta hai' music. People make copies hoping to recreate the magic of known hits. But at the end of the day, this music is still going to be a duplicate and it will die out soon.