CPI geared up for February 20, 21 strike
Haridwar, February 18
The district unit of the CPI has geared itself up for the two-day nationwide strike call on February 20 and 21.
Sanskrit colleges' annual sports, cultural fest begins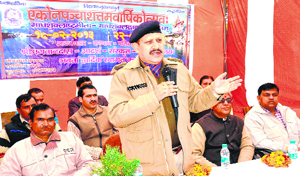 Haridwar, February 18
The 49th inter-Sanskrit colleges' annual sports and cultural fest began here today at Shri Bhagwan Das Sanskrit Mahavidyalya. More than 15 teams from different Sanskrit colleges of the district are participating in multiple events that will span for five days.
SP (City) KL Shah addresses a gathering at Shri Bhagwan Das Sanskrit Mahavidyalya in Haridwar on Monday. Tribune photo: Rameshwar Gaur
All Left parties support strike by trade unions
Dehradun, February 18
All the three Left parties, Communist Party of India (CPI), CPI (M) and CPI (ML), in the state have supported the countrywide two-day strike declared by all the trade unions on February 20 and 21. The leaders of these parties have given a call for maximum support from their party members as well as people of the state to make this strike a success.
Guv for expanding medical facilities in hill areas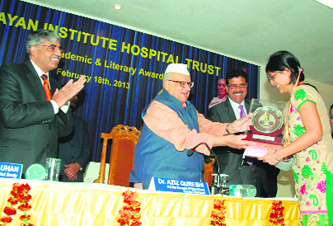 Dehradun, February 18
Governor Aziz Qureshi today stressed the need to focus attention on expanding education and medical facilities in the hill areas. Speaking as the chief guest at an award function organised by the Himalayan Institute Hospital Trust (HIHT), Jollygrant, the Governor said students of medicine should always remember the oath they took to serve humanity.
Governor Aziz Qureshi presents an award to a student at a function of the Himalayan Institute Hospital Trust in Dehradun on Monday.

'Make Mussoorie helmet-free zone'
Mussoorie, February 18
The mandatory provisions of helmets for commuters on two-wheelers introduced by the police here have not gone down well with members of the Youth Congress who are demanding to make the town helmet-free zone.
Dehradun traders call off Tuesday's bandh
Dehradun, February 18
Traders in the city have called off their bandh scheduled for tomorrow. A delegation of traders, led by state Doon Traders' Association president Umesh Aggarwal, met District Magistrate BVRC Purushottam today and put forward their demands in front of him.
Doon cricket stadium will be of international standards: CM
Dehradun, February 18
Uttarakhand Chief Minister Vijay Bahuguna has said that the proposed Rajiv Gandhi cricket stadium at Dehradun will be of international standards. He was speaking while presiding over a meeting regarding the cricket stadium and said that tenders would be soon invited for it's construction here today.
Officials demolish kiosk at Gun Hill in Mussoorie
Mussoorie, February 18
Officials of the Jal Sansthan, acting on a complaint, demolished a kiosk being constructed illegally at Gun Hill despite the objection by the local residents here today.
Miscreant decamps with jewellery
Dehradun, February 18
An anonymous customer got away with jewellery worth Rs 3.5 lakh from the shop of Doon Jewellery near Araghar in the afternoon today. The police is trying to identify the accused through CCTV footage. The customer, who came in the shop , chose some gold jewellery pieces and asked the jeweller, Amitabh Dutta, to pack them. Later, he refused to buy them
Direction to arms licence, renewal officials
Dehradun, February 18
District Magistrate BVRC Purushottam said the Union Home Ministry had made it compulsory for arms licence and renewal officials to enter certain figures in the computerised system under the Arms Licence Act 1962, Section 54, for which a national database on arms licence software has been prepared.
Vidhya Jain Cricket Academy win
Dehradun, February 18
Vidhya Jain Cricket Academy, Delhi, defeated Uttar Pradesh Police cricket team by five wickets in a match in the 5th All-India Shaheed Girish Bhadri Cricket Tournament played at the Ranger's College ground here today.
Cricket match drawn
Dehradun, February 18
The match between Mehuwala Cricket Club and United Scholars played in the 61st Dehradun District Cricket League was a tie as both the teams scored the same number of runs here today.
A batsman plays a shot in a match during the 61st Dehradun District Cricket League in Dehradun on Monday. Tribune photo: Vinod Pundir