Relief likely for wedding palaces violating norms
Dehradun, February 17
The Mussoorie Dehradun Development Authority (MDDA) is toying with the idea of providing a reprieve to the owners of wedding points who are violating the norms in the city. Around 16 of them, who have already defied the notice sent to them by the MDDA, have been able to evade the sealing process by the MDDA so far.
Hotel Drone's art gallery a big draw
Dehradun, February 17
The art gallery opened in Hotel Drone by the Garhwal Mandal Vikas Nigam (GMVN) is fetching art aficionados in droves. The gallery that was opened recently is doing brisk business. It is the first art gallery opened by any government department in the city.
Civil defence volunteers honoured
Dehradun, February 17
The annual prize distribution ceremony of Civil Defence Organisation was organised in Dehradun today. Civil defence Director and General Homeguards Commandant Uttarakhand RS Meena appreciated the activities of the civil defence volunteers in the state.
Protest against black marketing of LPG cylinders
Dehradun February 17
Shiv Sena activists protested before Arvind Gas Agency in the city today against the black marketing and less weight of LPG cylinders. They gave an ultimatum of 15 days to even gas agencies to take positive initiatives in this direction or else they would lock their offices.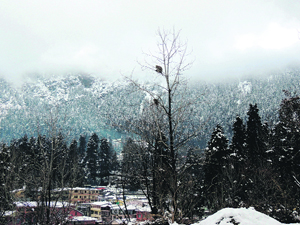 A panoramic view of snow-clad Nainital town on Sunday. Photo: Kamal Jagati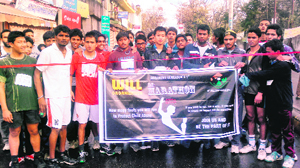 Participants during the flag-off ceremony of marathon in Dehradun on Sunday. A Tribune photograph

UP Police, Delhi cricket academy win
Dehradun, February 17
The Uttar Pradesh Police and the Vidhya Jain Cricket Academy, Delhi, won their respective matches in the 5th All-India Shaheed Girish Badri Memorial Cricket Tournament played here today.
Workshop on impact of climate change on farming
Dehradun, February 17
Uttarakhand Assembly State Forest and Wildlife's Parliamentary Secretary Hemesh Kharakwal said on Friday that the state was concerned about climate change and was undertaking efforts to save agriculture from the impact of climate change.
Social welfare camp today
Dehradun, February 17
Uttarakhand Congress will organise a social welfare camp in Dehradun on February 18. Addressing a press conference in Dehradun today, senior Congress leader Devendra Sethi disclosed that a camp would be organised at Sadhuram School, Kanwali, on February 18. He said Social Welfare Minister Surendra Rakesh would inaugurate the camp.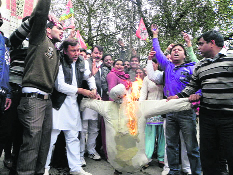 Samajwadi Party burns Centre's effigy
Dehradun February 17
The state unit of the Samajwadi Party today burnt the effigy of the Centre on the issue of petrol hike. City president Pradeep Chaudhary said if the Centre did not roll back the hike then they would start an agitation on the roads of the city.
Samajwadi Party workers burn an effigy of the Union Government against the petroleum price hike in Dehradun on Sunday.

Praveen Joshi shines in Doon marathon
Dehradun, February 17
WILL, an NGO, under the joint aegis of Tulas International School and Synergy Institute of Medical Science organised a marathon in Dehradun today. The marathon aimed at sensitising the society towards child abuse, women's empowerment and education. The rally started from Tulas Palace, Haridwar Road, to EC Road-Survey Chowk Road route and culminated at Tulas Palace. Praveen Joshi, Navlesh and Ankit Rawat stood first, second and third, respectively. Circle officer Mamta Vohra, who was the chief guest on the occasion, handed over prizes to the winners. TNS
Garhwal Sporting win title
Dehradun, February 17
Garhwal Sporting has won the 21st Naryan Gurung (zics) Memorial Football Tournament-2013 being played in Dehradun. In the final today, Garhwal Sporting beat Vijay Cantt 5-4 in a tie-breaker after two sides were tied 1 each at the end of stipulated time. TNS