From Schools and colleges
Mehr Chand institute bags Best Polytechnic Award
Tribune News Service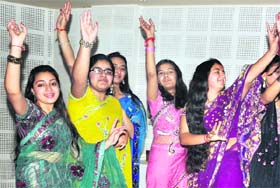 Students of Sanskriti KMV School enjoy during a farewell party held on the school campus in Jalandhar on Wednesday. Photo: Sarabjit Singh
Jalandhar, February 27
Mehr Chand Polytechnic bagged the Best Polytechnic Award in north India, declared by the One Planet Research Indo-Italian Research Centre, a prominent market research body, which conducted a national survey on the basis of academic achievement, placement, co-curricular activities and faculty development programme.
Principal Jagroop Singh received the award in Delhi from Shard Yadav, Lok Sabha MP and NDA convener. Speaking on the occasion, principal Jagroop Singh said the college had received the best polytechnic award earlier, in 2003 and 2011, as well.
NSS camp
Olympian Pragat Singh inaugurated the NSS camp at the CT Group of Institutions, Shahpur. More than 400 student volunteers took part in the awareness campaign. The National Service Scheme (NSS) wing of CT Group of Institutions, in association with the Punjab Technical University, is organising a one-week camp to spread awareness against cancer and hepatitis. About 400 NSS student volunteers from various professional streams are participating in the camp. Olympian S Pragat Singh, MLA from Jalandhar Cantt, inaugurated the programme by lighting the sacred lamp at the CT Group of Institutions, Shahpur. He was accompanied by in charge of the NSS wing of PTU, Dr Nachattar Singh (director, PIT), Dr Jagmeet S Bawa, Dr Manoj Kumar, group director, CT Group of Institutions and sarpanches and panches of nearby villages. The NSS programme will undertake the development activities and major projects of health awareness. Under the health awareness programmes, student volunteers will disseminate awareness against cancer and hepatitis. They will go for door-to-door campaigning in about 11 villages and guide as many as 15,000 persons on how they can save their lives from the deadly diseases.
S Pragat Singh congratulated the CT Group for the endeavour of Social service. S Charanjit Singh Channi, chairman, CT Group of Institutions expressed delight that students were working for the noble cause. Dr Surinder Singh said human values were very important.
Annual sports meet
MGN College of Education, Jalandhar, organised its 53rd annual sports meet today. The closing ceremony was presided over by Sunil Jyoti, Mayor Jalandhar. The opening ceremony of the meet was inaugurated by Principal Dr Amit Kauts, who declared the 53rd Annual Sports Meet open. Different marching houses saluted the chief guest and other renowned dignitaries. S Satinder Singh, immigration officer, Australia gave away prizes to the winners.
More than 100 students participated in various events like 50 m race, 100 m race, 200 m race, long jump, shot put, Apple race, chatti race, three-legged race, sack race, obstacle race, relay race and tug of war. Sports events were followed by cultural events like skit, folk song and gidha. Speaking on the occasion, chief guest Sunil Jyoti emphasised the urgent need to preserve and protect our culture and values. Plato house was declared the best house.
In fancy dress, Ridhika Jain was first, Sheetal Thakur was second and Radhika Kumra was third. Amritpal Singh was declared best athlete in boys and Rupinder Kaur was in girls.
Extension lecture on banking
DAV College, Jalandhar, under the aegis of "Kautilya Society of Economics", organised an extension lecture on February 26 on the topic "banking and central banking in the context of evolving economic scenario". The speaker on the occasion was Executive Director of RBI, Jasbir Singh. Principal Dr BB Sharma and head of department of economics Surinder Kaur and other faculty members extended a floral welcome to the honoured speaker. Dr SK Khurana delivered the welcome speech. Economist S Jasbir Singh gave an in-depth account of the evolving economic scenario in the country and its likely impact on people.
Map-skill contest
Cutting tables, spell IQ and map-skill contest was held on the premises of DIPS Suranussi. The memory of the students was tested by quick questions. Children put a great show by prompt and accurate answers. Satyam, Satish and Prabhjot Kaur from Class III were the winners of cutting tables contest while Mehak, Abhay and Sarabjit from Class V were the winners of the spell IQ quiz. Gursimran Kaur (VI-A), Damanpreet (VI-A), Tajinder (VI-A), Swati, Naina (VII-B), Tajinder (VIII-B), Navmehak and Gurwinder Singh (VIII-B) were winners in the map skill contest. Principal Bela Kapoor congratulated winners and awarded them certificates to them.
Health awareness campaign
Students of St Soldier Kids Paradise conducted a health awareness campaign on the campus and demonstrated many aerobics tricks and yoga exercises for the fitness of the body, relaxation and tension free life. Students were made aware about the benefits of these exercises for our body and mind on the occasion.
Farewell party
'Hasta La Vista' — a farewell party was given to the students of Class XII at Innocent Hearts, Green Model Town, Jalandhar City. Ankita Sharma bagged the title of Ms Innocent. Judges of the day were Sharmila Nakra, Shallu and Sheetu. A cultural show was also organised by students of Class XI. Sakoon Prabhakar, Rhytm, Naman and Harleen were given the trophies for the best student of 2011-2013.