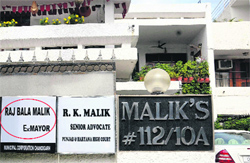 After The Tribune highlighted the issue, former Mayor Raj Bala Malik prefixed "ex" to "Mayor" on the name plate at her house in Sector 10, Chandigarh, on Wednesday.
PU students held for eve-teasing
Chandigarh, March 13
The UT police today arrested two students of Panjab University in a case of eve-teasing and threatening two girls and smashing the windowpanes of their cars late at night. "The girls, who are the students of DAV College, Sector 10, are staying as paying guests in the city. The accused were stalking the girls for quite some time and used to pass lewd comments about them. When the girls refused their advances, they smashed the windowpanes of their cars," said the police.
4 Panjab University employees served show-cause notice
Chandigarh, March 13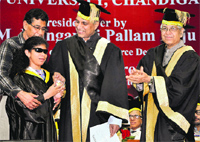 The Panjab University has issued show-cause notice to four university employees for the disorder and confusion witnessed at the 62nd Annual Convocation held on March 10.




A file photo of Dr M Mangapati Pallam Raju, Union Minister of Human Resource Development, at the PU convocation.
Woman rams car into vehicles, cyclist dies
Chandigarh, March 13
A woman rammed her Lancer car into a cycle and two vehicles as she failed to apply brakes in time in Sector 35 today. The cyclist, who suffered injuries in the accident, died at a hospital. The police has booked the woman, Sunny Pal, the wife of a retired Colonel, in a case of causing death due to negligence under section 304-A of the IPC. The woman, who is a resident of Sector 33, has been admitted to a hospital in Sector 6, Panchkula, and will be arrested after she is discharged, the police said.
NRI opens fire at friend's ex-employer in Kharar
Mohali, March 13
An Indian origin UK citizen opened fire at around 11.30 pm last night at KFC, Kharar, where he had gone to settle some issue between his woman friend and her former employer.



Vehicle owners return without receipts as office in-charge fails to turn up
Chandigarh, March 13
After waiting in a long queue for an hour, Santosh Kumar who came to the SDM's office (East), Industrial Area Phase I, for getting an authorised receipt for the fixation of the high security number plate (HSNP) was informed that he had to revisit the office on March 15 as the branch in-charge was not available today.



Vehicle owners wait for the authorised receipts; and (right) vehicles parked along the roadside at the SDM's office (East) in Industrial Area Phase I, Chandigarh, on Wednesday. Tribune Photos: Manoj Mahajan
Power hike: Admn allows residents to raise objections during public hearing on March 15
Chandigarh, March 13
The Chandigarh Administration has given another chance to residents to raise objections against the proposed hike in power tariff.
Colourful rehearsal for President's visit
Chandigarh, March 13
A captivating display by the Air Warriors Drill Team of the Indian Air Force and an impressive flypast by the Jaguar fighter aircrafts and helicopters marked the full dress rehearsal for the President's Colour Presentation Parade at the No. 3 Base Repair Depot (3 BRD) here today.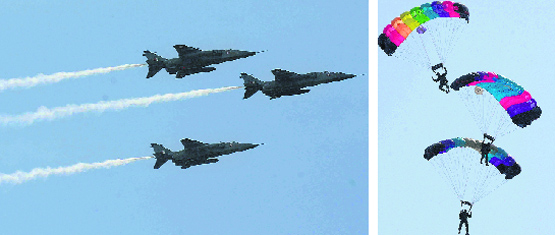 Jaguars of the Indian Air Force fly past; and members of the Air Devils skydiving team perform a dive during the full dress rehearsal for the President's Colour Presentation Parade at No 3 Base Repair Depot in Chandigarh on Wednesday. Tribune photos: Manoj Mahajan
2,000 cops pressed into service
Chandigarh, March 13
The UT police have made elaborate security arrangements ahead of the President's visit to the city on March 15. Over 2,000 policemen have been pressed into service and will be deployed for the security and traffic arrangements in and around the PGI and on the VIP route.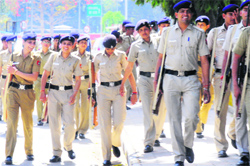 Mock security drill at PGI
Chandigarh, March 13
The UT police, paramilitary forces, and a team of civil defence conducted a mock drill at the PGI as a part of preparations ahead of the President Pranab Mukherjee's visit to the campus on March 15.



Police personnel deployed at the PGI on Wednesday. Tribune Photo: S Chandan
Dowry victim calls off protest
Panchkula, March 13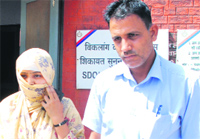 A woman, who was staging a protest outside the office of Commissioner of Police, called off her protest following an assurance by the Panchkula Deputy Commissioner of Police, Ashwin Shenvi, that she would be given justice and the erring police officials in her case would be punished.


Victim, Amandeep Kaur, comes out of the police station at Mansa Devi Complex in Panchkula.
Private institutions should provide free treatment to poor: Minister
Panchkula, March 13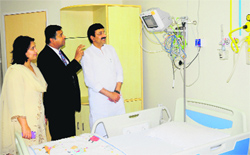 Haryana Health Minister Rao Narender Singh during the inauguration of Ahilya Women's Healthcare center at the Children hospital Mansa Devi Complex (MDC) urged the private health institutions to provide free treatment facilities to poor and ensure that no poor is deprived of treatment because of lack of funds.
Haryana Health Minister Rao Narender Singh (extreme right) during a visit to the Ahilya Women's Health Care in Panchkula.
UT consumer forum settles mediclaim of over Rs 3 lakh
Chandigarh, March 13
The UT State Consumer Disputes Redressal Commission has settled a cancer mediclaim of Rs 3,34,264. Dismissing an appeal of the New India Assurance Company against an order of the District Consumer Disputes Redressal Forum-II, the commission also imposed a fine of Rs 45,000 on the insurance company for wrongful denial of the claim.
PGI programme on bedsores a success
Chandigarh, March 13 The project on bedsores being run by the PGIMER, wherein experts visit patients' residences and guide them about handling bedsores, has elicited an encouraging response from the public.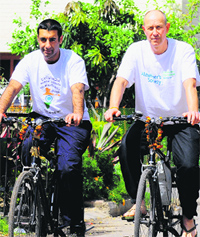 Cyclists from the UK pedal for a cause
Chandigarh, March 13
Last year, two UK-based cyclists rode from Land's End, the southern tip of England to John O'Groats, country's north coast, to spread awareness as well as raise funds for Alzheimer's disease. Their mission has now brought them to India for the similar cycling charity mission. For 51-year-old Ian Worrall, riding in India is much more challenging than the home country as there are many temperature zones on the way and language barriers, too.



Sajiv Prabhakar (left) and Ian Worrall at Sector 15 in Chandigarh. Tribune photo: S. Chandan
Hearing impairment no barrier for this youth


Chandigarh, March 13
His inability to communicate normally due to hearing impairment has not deterred him from achieving excellence in Applied Art. A student of Government Arts College, Sector 10, 21-year-old Rahul Mahajan, has battled to complete his animation course despite being unable to follow theory lessons throughout his career.


Rahul Mahajan
Notice to city's top schools
Chandigarh, March 13
The UT Education Department today served a notice to the city's top schools giving them final warning to supply to the department the requisite information regarding their vacant seats under the RTE Act for 2013-14 immediately by tomorrow morning.
Degrees conferred on 527 students
Chandigarh, March 13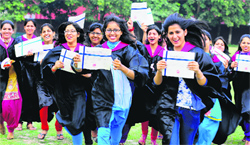 The Post Graduate Government College for Girls (PGGCG), Sector 42, organised its 27th annual convocation function on the college premises today.


Students in a jubilant mood after receiving their degrees during the annual convocation at Post Graduate Government College for Girls, Sector 42, in Chandigarh on Wednesday. Tribune Photo: S.Chandan
Students given warm send-off
Chandigarh, March 13
The Department of Computer Applications of Post Graduate Government College for Girls, Sector 11, organised a farewell party "Masquerade" for the outgoing PGDCA and BCA-III students today.
Appointment of PU VC's wife under judicial scanner
Chandigarh, March 13
Dr Neera Grover's appointment to the post of Vocal Studies professor in the Panjab University's Music Department today came under judicial scanner. The development is significant as she is the wife of Panjab University's Vice-Chancellor Arun Grover.
PU plans to bend rules for Senator
Chandigarh, March 13
Panjab University is planning to bend rules for registration in PhD to accommodate a Senate member who failed to get himself registered for the PhD on time. The issue would be taken up in the forthcoming Syndicate meeting.

Mohali lad brings laurels
Mohali, March 13
Rehmat Singh Chawla, a student of Class V, brought laurels to The Millennium School, Sector 67, by winning top honours in the English Olympiad, conducted by SOF International, here recently. Rehmat took part in the mathematics, science and cyber olympiads, too.
Rehmat Singh Chawla
ABVP members stage protest
Chandigarh, March 13
Members of the ABVP today staged a protest at the Student Centre in Panjab University against the Union Public Service Commission's (UPSC) decision to make English compulsory in the Civil Services Exam (CSE).