Growth rate down from previous year
Shimla, March 13
Not left untouched by the nationwide slowdown, the growth rate of the state has been pegged at 6.2 per cent for the current year against 7.4 growth recorded in 2011-12.
BJP to explore legal options on phone tapping
Shimla, March 13
Former Chief Minister PK Dhumal said today that though no discussion could be held in the House on the issue of phone tapping due to the provision of the Indian Telegraph Act, 1885, the party was exploring all the possible legal options, including moving court.

Bali to attend Budget speech
Dharamsala, March 13
Minister for Food and Civil Supplies, Transport and Technical Education GS Bali, who had been undergoing treatment for fracture in chest ribs, left Kangra today to attend the Budget session in Shimla.
GS Bali

2-yr RI for BJP leader's son in rape case
Solan, March 13
Additional Sessions Judge KK Sharma sentenced Vijay Kumar, son of BJP leader Netar Singh of Kather village, and Naresh Kumar of Lokari village to 10-year rigorous imprisonment and fined them Rs 10,000 for raping a girl.
Need for quality research in science stressed
Solan, March 13
Dr Luqman Khan, Vice-Chancellor of Mohammed Ali Jauhar University, Rampur , said meeting new challenges in cutting edge technologies, particularly in biosciences and their convergence through interdisciplinary approach, was the need of the hour.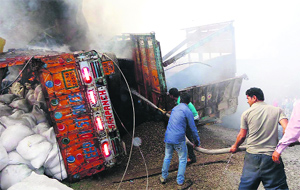 4 charred to death as 3 trucks catch fire after collision
Nurpur, March 13
Four unidentified crew members of three trucks were reportedly charred to death and two other sustained serious burn injuries when three trucks caught fire on colliding at Damtal in this subdivision bordering Pathankot (Punjab) this evening.

Fire tenders from Pathankot douse fire at Damtal in Nurpur on Wednesday. Photo: Rajiv Mahajan

State to tap World Bank's clean technology fund
Shimla, March 13
After securing a Rs 550-crore development policy loan from the World Bank, the state is seeking another Rs 500 crore under the Clean Technology Fund (CTF) programme of the bank to promote environmentally sustainable growth.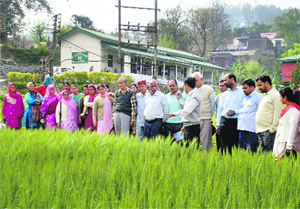 Tilhan Diwas-cum-Kisan Gosthi held at Kangra
Kangra, March 13
Farmers should come forward and adopt high-yielding varieties along with improved technology. Only then oilseeds production can further be increased in the state as there is a deficit of 40 per cent in oilseeds production to that of the total national consumption.

Farmers on the occasion of Tilhan Diwas at the Shivalik Agricultural Research and Extension Centre in Kangra on Tuesday. Photo: Ashok Raina

6 members of urban cooperative bank convicted
Mandi, March 13
The court of District and Sessions Judge, Mandi, Virender Singh, today convicted six members of the Board of Directors of Mandi Urban Cooperative Bank Limited in a case of embezzlement of bank funds. However, 10 other members of the bank were acquitted. The Judge has reserved the quantum of sentence for March 19.
Ration depot holder must sell food items within a month: Bali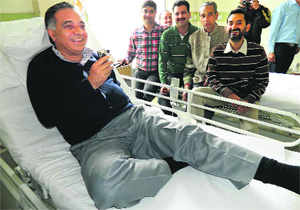 Kangra, March 13
The state government yesterday decided that within 72 hours, Food and Supplies Department officials would conduct raids on ration depots to verify whether consumable items were being delivered to consumers within one month after being received by the depot holder, and orders were issued to keep a consumers' complaint register available at the depot.

Food and Civil Supplies Minister GS Bali addresses a press conference from a hospital in Kangra on Tuesday. Photo: Ashok Raina

Applications for food safety licences to go online
Hamirpur, March 13
The state government will soon start online process to obtain applications for food safety licences to facilitate licence holders by reducing paper work.
Ration card holders oppose overcharging of renewal fee
Nurpur, March 13
As many as three dozen ration card holders in Pandrer gram panchayat under Nurpur block have submitted a written complaint to the Chief Minister, the Deputy Commissioner, Kangra, and the Secretary, Food and Supplies, on overcharging of ration card renewal fee from Rs 5 to Rs 20 from consumers of ward numbers 1, 2 and 3.
Army man still untraced after 'kidnapping' minor
Kangra, March 13
The Kangra police was in search of an Army jawan who had allegedly kidnapped a minor girl from a village falling under Yol police post on January 3 and was untraceable.
One arrested for possessing nag chhatri
Chamba, March 13
The police arrested one person and seized 10 kg of nag chhatri at the Parel bridge on the outskirts of Chamba town last night, according to a report received here today.
Thieves decamp with cash, jewellery
Bilaspur, March 13
Thieves broke locks of three houses at Upper Syohla village in the Jukhala valley, 30 km from here, on Monday and decamped with cash and jewellery worth Rs 2 lakh from a house.