Yummy food in a jiffy
All those who think entertaining at home is a pain must break the time-worn mindset of cooking elaborate meals. You can feast on no-fuss dishes cooked super fast and bowl over your guests
Pushpesh Pant
Don't get us wrong, we aren't advocating that you splurge on hamburgers, hot dogs and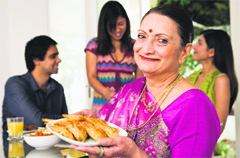 pizza slices and dish out the same 'junk' to your guests. We merely wish to draw your attention to the liberating possibilities that are available today if you are willing to get rid of the received baggage of "conventional wisdom" about hospitality and entertaining at home. There is absolutely no need to spend hours in back-breaking chores in the kitchen preparing a feast that will impress family and friends. If you happen to be a glutton for punishment you are welcome to do so on special occasions but we strongly recommend that you escape enforced martyrdom and enjoy the party.
---
ARTS
'Art & Soul
A museum, both old & new
The cleaning, renovation and sprucing up of its displays has put back life into the Albert Hall Museum at Jaipur. The museum once drew visitors to itself, as much for its own beauty as for the riches that were housed in it
B.N.goswamy
There was a time when a visit to Jaipur was considered incomplete — at least for those with a feeling for the arts — if one did not visit the Albert Hall Museum: that superbly crafted structure in glistening white marble set at the very heart of a sprawling garden. It was an ajai'b ghar of sorts, where you could see all kinds of things: large murals painted to present a view of the great civilisations of the world, royal furniture made of solid silver, exquisite arms and armaments adorning walls, shikar-gah carpets and floor coverings all a-blossom, specimens of enamelling and metal work and ivory work jostling next to little animals preserved in jars of formaldehyde.



(1) Maharaja Sawai Pratap Singh. Brush drawing on paper; ca. 1790; (2) Carpet with mythical birds and animals. Wool; based on a Persian original; 18th century. Albert Hall Museum, Jaipur and (3) Shiva Vinadhara. Sculpture in sandstone, from Sambhar 10th century

---
Fitness
good health
Get hip with yoga
Today yoga enjoys a growing audience and its popularity continues to swell. People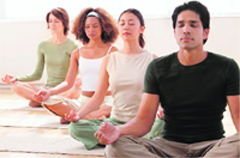 from all over the world have turned to yoga for medicinal, healing and emotional support
Mickey Mehta
TO most of us yoga is a series of exercises that help to strengthen our bodies and make us flexible. Yoga is much more than that. It is a powerful tool in correcting and healing all imbalances that translate into stress and ailments. Complete wellbeing and emotional happiness form the real core of yoga.
Yoga improves digestion, elimination and flushes out toxins from body


Health Capsules
---
Society
Shakespearewala!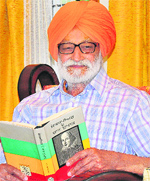 It was his rustic moorings that gave him the wherewithal to translate the Bard, maintains eminent writer Surjit Hans. He has translated all of Shakespeare's 39 works into Punjabi. He now wants to translate Origin of The Species by Charles Darwin
Nirupama Dutt
This is a case in which love's labour was not lost but rather encased in 39 volumes of the Gurmukhi script. Surjit Hans, a well-known historian and litterateur, has completed the formidable task of translating all the 37 plays of Shakespeare and one volume each of his poems and sonnets into Punjabi.
Love's Labour not Lost: Surjit Hans at his home in Mohali. Tribune Photo: S Chandan
---
TRAVEL
New spice route
Espelette in the Basque region of France has a culinary celebrity known for its fiery nature
Kalpana Sunder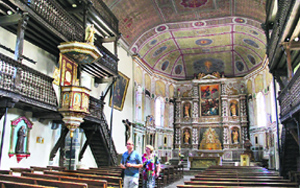 AS you drive past wild Pottok horses, rolling hills and higgledy-piggledy farm houses aflame with bougainvillea, there is the earthy smell of farm animals and hay in the air and the muted sound of sheep bells. This tiny town of less than two thousand denizens in the picturesque Pays Basque region of France has a celebrity: one who has a special status of being called 'Red Gold'.
An inside view of 16th century church with tiered wooden stalls and a stunning Baroque altar Photos by the writer
Globetrotting
Carnival times
---
ENTERTAINMENT
Novel scripts
Popular literature is fuelling blockbuster ideas, what with Karan Johar picking up the rights for Amish Tripathi's The Immortals of Meluha and Chetan Bhagat's 2 States: The Story of My Marriage. No longer the exclusive muse of alternate cinema, literature is inspiring mainstream cinema with its 'novel' ideas
Deepa Ranade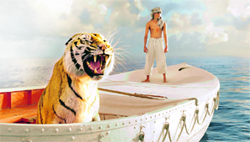 Salman Rushdie narrated the Hollywood goat joke about "book was better than the film" during the recent release of his Midnight's Children. However, cinematic adaptations of literary works are not a matter of joke any longer. Increasingly, filmmakers are courting novelists for film rights.

Ang Lee's Life of Pi is an adaptation of Yann Martel's fantasy adventure novel of the same name
---