Devotion in soul
Regaling the audience with his khayal and bhajan renditions, Madhup Mudgal believes the relevance of Kabir will never fade away…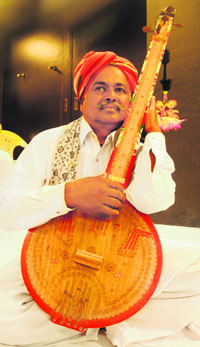 Music, especially devotional music, is what Padma Shri Madhup Mudgal grew up with. Regaling the audience around the world with his khayal and bhajan renditions, this classical musical vocalist came to Chandigarh on the opening day of the sixth Annual Kabir Festival Suno Bhai Sadho at the Tagore Theatre. "My father was a great follower of devotional music and so was my mother. Music has been an integral part of my upbringing," says Madhup Mudgal. The following generations have carried on the rich legacy. Madhup Mudgal's sister Madhavi Mudgal and daughter Arushi are accomplished Odissi dancers. Different forms of classical arts merge in this family that also runs Gandharva Mahavidyalaya. "We are the best critics of each other's work," admits Madhup Mudgal. Carrying on his art while also managing Mahavidyalaya on the lines of his father Vinay Chandra Maudgalya, who established the school way back in 1939, this classical vocalist has carried forward the twin responsibilities with élan.

FOLK LURE: Mahesha Ram. Photos: Pradeep Tewari

Tradition bound
Kabir kua ek hai, paniyari hai anek …Mahesha Ram says about the great saint. Hailing from the Meghwal community that sings Kabir in folk style, Mahesha Ram has carried the tradition forward. Based in Chattangadh, Rajasthan, Mahesha Ram has taken Kabir Bani far and wide and is elated that lovers of Kabir are there in different parts of the world.
Dream come true
Miss India 2013 Navneet Kaur Dhillon is bubbling with excitement. And she wants to have butter chicken to calm her nerves…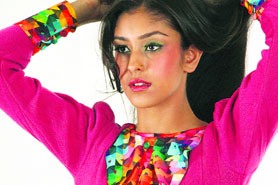 "I stared deep into the mirror for a long time. I couldn't believe it; I still can't? I have really won?" Not on earth can you miss the zing in her voice. Femina Miss India 2013 Navneet Kaur Dhillon struggles with words to express her happiness. "I cannot begin to describe that moment; it was like being born again. It was unbelievable, but it is so true," she exclaims, speaking to herself most of the times. I won, I won and I don't want this moment to end. Her gibberish takes shape after a while. Currently pursuing media studies from Punjabi University, Patiala, from the department of MJMC, Navneet stayed in Ambala for a long time.
Proud moment
"Although I am studying in Patiala, I am proud to be the daughter of India," says the recently crowned Navneet Kaur Dhillon, the daughter of an Army officer. The Dhillon family is currently settled in Patiala while Navneet's father Colonel Bharpur Singh is currently posted at Bhopal. Navneet is a media studies student in Patiala and hails from village Kathua in Haryana.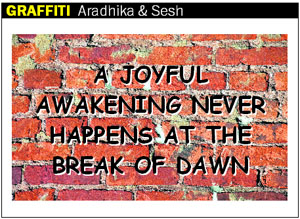 Astro turf
ARIES: Turn your attention to financial matters. Go over the figures and see where you stand. If there are problems, discuss them with partners. Forgive and forget is the best policy.
The year ahead
If your birthday is March 26...
Venturing into a new territory is risky. Near and dear ones will help you push past fears and embark on a fresh adventure. Your best friend or lover will have valuable experience in an area you want to explore. Be sure to ask for their advice. Relying on their expertise will strengthen your relationship. You will know how to enjoy the present.
Chatter box
Delight in colours
Holi is the time for great fun and sumptuous food. Television stars who hardly get a breather from their hectic shoots talk about their plans and memories of this festival
Soumya Seth: Since I am from Varanasi, I have seen really colourful Holi from my childhood days. However, from the time I have been in Mumbai it has always been a dry Holi with my family and this year also, I plan to have a dry Holi because of the Maharashtra drought. I am doing my bit and I strongly want everyone should do that.
Par Excellence
Body basics
Separation of the upper and lower body...
During the golf swing, the body has to rotate away from the target and then towards the target. This rotation creates centrifugal force which is the engine for power in the swing. Force is created by a movement of a lever against the resistance. On the backswing the upper body coils while the lower body resists this move. So, during the take away the shoulders must turn and the hips do not turn in the first part of the backswing. Similarly in the first move of the downswing the hips turn while the shoulders hold or resist this move.
Ranbir comes to Deepika's rescue
First love is unforgettable, and so is first break-up. Deepika Padukone had gone through a break up two years ago but she has come out of the heart-breaking phase with flying colours. She cried, she acquired strength to get out of the situation, concentrated on her career and moved on happily. But the past still haunts.
Katrina's nocturnal visits
Katrina and Ranbir spend quality time together at his residence. Ranbir's parents have accepted Kat as Ranbir's life partner
This is not the first time that Katrina Kaif made a secret visit to Ranbir's abode in the dead of the night. It has happened in the past too and still continuing. Though the couple denied being in a relationship, they are often spotted spending nights together.
Five grooms and a damsel
Actress Tamannah Bhatia got marriage proposals from five assistant directors on the set of Himmatwala. It is not a joke and it really happened when she was shooting for this Sajid Khan's film with Ajay Devgan. Sajid is a big prankster and so his team. As the shooting of the film is on the final stage, Sajid played a prank on his actress. He called all his five assistant directors and asked them to propose the actress.
Lindsay escapes prosecution...
Troubled star Lindsay Lohan will reportedly not face charges relating to a New York nightclub brawl last November. The Mean Girls star was under investigation for allegedly punching Tiffany Mitchell, 28, during a night out with members of boy band The Wanted at Club Avenue in Manhattan last year.
Wait & watch
Kangna Ranaut has been absent from Shootout at Wadala promotions raising a lot of questions. However, the actress says there is nothing to worry, as the film's co-producer Ekta Kapoor will unveil things strategically.
In public knowledge
Britney Spears has gone public with her new boyfriend David Lucado months after splitting from fiance Jason Trawick. Wearing a vintage black and pink dress, the couple was photographed holding hands in public for the first time while walking across the parking lot of a mall in Thousand Oaks, California.
Prank calls for Paris
Socialite Paris Hilton has joined the long list of celebrities, who have been victims of prank call, after the police received a fake call saying someone was in her house.
Sunny sizzles on stage
Adult star Sunny Leone, recently, gave a sizzling performance at the music launch of her upcoming film Shootout at Wadala. Sunny has an item number in the film. Dressed in a sexy black ghaghra-choli, she set the stage on fire with her raunchy dance moves and stole the show. Priyanka Chopra and Sophie Choudry, who also have an item number in the film, couldn't excite the audience as much as Sunny. But the real gossip is that Priyanka is not too happy over sharing item girl credits with the porn star. Insiders say that she doesn't want to be compared with Sunny. Well, too late Priyanka!
Round of applause
Bipasha Basu, who has worked with National Award-winning actor Nawazuddin Sidiqqui in her latest release Aatma, just can't stop praising her co-star. After all, he has won a National Award. She says she is proud of having worked with the credible actor that he is. She is also very proud that he has won such a prestigious award. Well, that's good since they will be seen together in the sequel of the film.
One man army
Actor Arshad Warsi, who is a close friend of Sanjay Dutt, is shocked to hear about his prison sentence. The two were supposed to begin working on their film Munnabhai soon. But now, Arshad says that he cannot be a part of Munnabhai without him. He says that the film is not possible without Sanjay Dutt.