M A I N N E W S
BJP readies Team 2014, Modi gets key post


Party chief Rajnath Singh announces core team in a bid to rekindle Hindutva agenda


Stalwarts Yashwant, Jaswant sidelined
Vibha Sharma/TNS
Looking Ahead: The New-look Team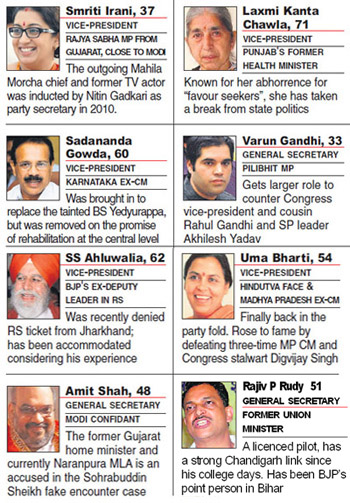 New Delhi, March 31
BJP president Rajnath Singh on Sunday announced his team for the 2014 General Elections, with Gujarat Chief Minister Narendra Modi striking a comeback in the Central Parliamentary Board, the party's top-most policy and decision-making body, and ensuring the plum post of general secretary for his controversial protégé Amit Shah.
Rajnath, who in his earlier term as party president had dropped Modi from the board, also included him in the Central Election Committee, a marker of the Gujarat CM's growing acceptance for a larger role in 2014 both in the party and in its ideological fountainhead RSS. He is the only serving chief minister to be included in the parliamentary board.
The counter-argument largely propagated by party patriarch LK Advani, that the BJP's other CMs (Madhya Pradesh's Shivraj Singh Chauhan and Chattisgarh's Raman Singh) were equally "successful" and "popular" as Modi was lost in the growing chorus for Modi, it seems. The 12-member Central Parliamentary Board had one vacancy, created by the death of RSS veteran Bal Apte. To accommodate Chauhan would have meant displacing someone, an equally tricky task given the circumstances. Therefore, the MP Chief Minister was left to tend his state, for now.
Before releasing the list, Rajnath met Advani to iron out differences over Chauhan missing the bus and Modi making it to the top table. But despite Rajnath's best efforts at keeping everyone happy with his mixed bag of appointments, some of the selections are likely to cause turbulence in the days to come.
As far as Modi is concerned, analysts believe that it is only a matter of time before he is appointed the campaign committee chief for the forthcoming General Elections. He is now the only serving CM to hold positions in two key decision making bodies -- all signs of a bigger, more important role (such as the prime ministerial candidate). His moving closer to the Centre also marks the comeback of the two-leader formula that the BJP followed in times of Atal Bihari Vajpayee and Advani. Leaders though insist that the first test for the new team is the coming Karnataka Assembly elections and calls on other issues will be taken only after that.
However, Modi's growing influence is evident from the way he has ensured key posts for confidantes Amit Shah, Smriti Irani and Balbir Punj. This despite the fact that senior central leaders were opposed to the idea of Shah, an accused in the Sohrabuddin Sheikh fake encounter case, in the team.
Apart from Shah, Pilibhit MP Varun Gandhi has been elevated as the party's general secretary, apparently to counter the youth brigade in Uttar Pradesh -- Congress vice-president and cousin Rahul Gandhi apart from Samajwadi Party leader Akhilesh Yadav.
Varun's elevation as general secretary has not gone down well by Vinay Katiyar, one of the prominent faces of the Ram temple movement. "It seems the Gandhi name works in the BJP as well," he said. Katiyar has himself been included in the party's election panel.
While Varun has Rajnath's blessings, the elevation of spokesman Rajiv Pratap Rudy to the post of general secretary is understood to be in recognition of his spirited defence of the party inside and outside Parliament. Importantly, no woman has been named in the coveted list of general secretaries, which now also includes Murlidhar Rao, known for his close association with the RSS.
In the BJP's organisational hierarchy, the post of general secretary is more important because of the greater say in ticket distribution that comes along. There were three posts vacant after Ravi Shankar Prasad became Deputy Leader of the Opposition in the Rajya Sabha and Narendra Singh Tomar and Vijay Goel were deputed to head party units in Madhya Pradesh and Delhi, respectively.
Clearly, Rajnath's attempt has been to strike a balance between the interests of the BJP and the RSS, all in line with rekindling of the emerging Hindutva agenda. Therefore, former Madhya Pradesh chief minister Uma Bharti, who was expelled for discipline, was brought back as vice-president along with Smriti Irani, Prabhat Jha, Balbir Punj, Lakshmi Kanta Chawla (former Punjab health minister), SS Ahluwalia (earlier BJP's Deputy Leader in Rajya Sabha), Kiran Maheshwari, tribal leader Jual Urao, Sadananda Gowda (Karnataka ex-CM), CP Thakur and Satpal Malik.
Senior leaders Yashwant Sinha, Jaswant Singh, Najma Heptulla, Hema Malini, Ramesh Pokhriyal and Shanta Kumar did not find a place in Rajnath's team. Sinha was in the running for a key role, but his chances were thwarted by his tirade earlier this year as he attempted to scuttle the re-appointment of former party president Nitin Gadkari.
While cricketer-politician Navjot Sidhu has been dropped, Poonam Mahajan, daughter of late party leader Pramod Mahajan, has found a place in the team as secretary.
Durg MP Saroj Pandey is the new president of BJP Mahila Morcha, while Anurag Thakur continues as Yuva Morcha president. Prakash Javadekar, Shahnawaz Hussain and Nirmala Sitharaman will continue as spokespersons and have been joined by Vijay Sonkar Shashtri, Sudhanshu Trivedi, Meenakshi Lekhi and Capt Abhimanyu (from Haryana).
The new team has 13 vice-presidents, 10 general secretaries, 15 secretaries and seven spokespersons, besides a 12-member Central Parliamentary Board, a 19-member Central Election Committee and a five-member Central Disciplinary Committee.