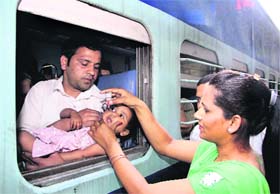 Saving lives: Health Department staff administer polio drop to a child at the city railway station in Jalandhar on Sunday. Photo: Sarabjit Singh
NRI body backs movie Sadda Haq
Jalandhar, April 7
"While the film, "Sadda Haq", has been banned in Punjab, Haryana, Chandigarh and Delhi, thousands of non-resident Indians (NRIs) are watching the movie in foreign countries," said the US-based North American Punjabi Association (NAPA).
Residents slam govt for imposing stamp duty on power of attorney
Jalandhar, April 7
Close on the heels of strong protests on the issue of property tax, now residents have come forward to criticise the SAD-BJP government for imposing 2 per cent stamp duty on the power of attorney.


Govt taking credit for Central schemes: Youth Cong
Jalandhar, April 7
Alleging that the Parkash Singh Badal-led SAD-BJP government is trying to take credit for Central-sponsored schemes, Punjab Youth Congress (PYC) president Vikramjit Singh Chaudhary today said he would expose the state government on this before the forthcoming parliamentary elections scheduled to be held next year.

Punjab Youth Congress president Vikram Choudhary addressing mediapersons in Jalandhar on Sunday. A Tribune Photograph

BSP defers burning of police effigy
Jalandhar, April 7
The Bahujan Samaj Party (BSP) has postponed its effigy burning of the police and a Cabinet minister on April 8 over alleged torture of six Dalits of Kalyanpur village. The development took place after the assurance of Jalandhar SSP (rural) Yurinder Singh Hayre to do the needful soon.
A file photo of the residents of Kalyanpur village in Jalandhar. A Tribune photograph


70 gynaecologists participate in live surgery demonstration workshop
Jalandhar, April 7
Live operative demonstration on total laparoscopic hysterectomy and lap myomectomy were the highlights of a workshop 'Advance Lap Gynea Surgery-2013' held at Jammu Hospital, here today.
Doaba College holds free computer classes for senior citizens
Jalandhar, April 7
Computers and mobiles are hideous devices for those who were bred in a world, which has slower but quainter substitutes. For those, who were used to corresponding with loved ones though letters, standing in hour-long queues for ticket bookings, the digital beings came like a ruthless monsters.
GNDU hosts national workshop for researchers
Amritsar, April 7
The Department of Commerce and Business Management, Guru Nanak Dev University, holds eminence in the research landscape of the country due to the gigantic research activity being undertaken here.


from schools and colleges
Khalsa College girl tops in varsity exams
Jalandhar, April 7
Amaneet Kaur Bhatia, a student of Lyallpur Khalsa College, Jalandhar, has bagged first position in the University exams of MA-English third semester by securing 274 out of 400 while Arshiya bagged fourth position in the same exams. This information was given in a press statement by Principal of the College Dr GS Samra.
Sportspersons with their cheques at the Hansraj Stadium in Jalandhar. Photo: Sarabjit Singh

Over 18,000 administered polio drops in district
Jalandhar, April 7
In an effort to eradicate the disease, the Health Department today launched a door-to-door vaccine programme and administered polio drops among 62,281 kids in the district. Equipped with medical kits, about 968 teams covered the urban area of the district and vaccinated 43,607 children while 213 team covered the rural areas and administered polio drops to 18,674 children below five years of age.

An infant being administered polio drops during a door-to-door campaign launched by the Health Department in Jalandhar on Sunday. Photo: Sarabji Singh


Maintenance of hygiene
Authorities to rope in NGOs, students to launch campaign on sanitation
Jalandhar, April 7
Poor hygiene is the root cause of a majority of diseases and to educate and aware general public to maintain hygiene, the district health authorities have decided to hold campaign in the countryside.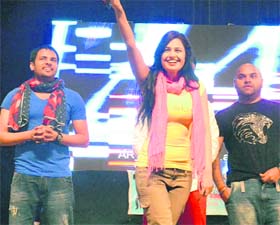 Glamour quotient: Bollywood actress Yuvika Chaudhary during the promotion of her upcoming Punjabi film 'Daddy Cool..Munde Fool' in Jalandhar. Photo: Sarabjit Singh
World Health Day observed
Amritsar, April 7
Members of yoga ashram, Goal Bagh, and NGO Mission Aagaaz organised a health awareness walk to observe the World Health Day. Morning walkers joined the walk. MC councillor Dr Ram Chawla, who also joined the walk, laid emphasis on inculcating healthy food habits among children.
Stranded ship
Rescue of crew members sought
Amritsar, April 7
The family of Major Singh, one of the 35 crew members of a ship, which has been stranded at the Kandla harbour in Gujarat for the past few months, has requested the government to act quickly and secure release of all the people on board.
Cash, gold 'stolen'
Jalandhar, April 7
Thieves decamped with cash and gold jewellery from a house in Pacca Bagh here. The owner of the house, Deepak, had gone to attend a marriage function along with his family members when the alleged theft took place.
Four arrested for theft
Amritsar, April 7
The city police has arrested four thieves for stealing iron material from a factory. Those arrested are identified as Bachitar Singh, Dayal Singh, Satnam Singh, all residents of Vallah and Arun Kumar, a resident of Ekta Nagar, Chamrang Road.