Haridwar Round-up
SP candidate withdraws papers to support Independent candidate
Tribune News Service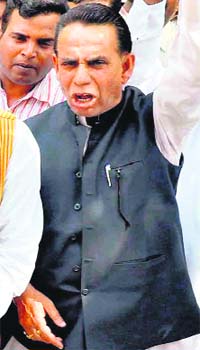 Naeem Qureshi raises slogans in favour of mayoral candidate Swami Rishiwaranand in Haridwar on Monday. Tribune photo: Rameshwar Gaur
Haridwar, April 15
The Samajwadi Party has suffered a major setback in the Jhabreda Nagar Panchayat with its candidate Dr Parvez withdrawing his nomination papers for the post of Chairperson to support Independent candidate Gaurav Chaudhari.
Dr Parvez described Chaudhari as a better candidate to defeat the Congress and BJP's candidates from Jhabreda.
Samajwadi Party leader Rajendra Chauhdary said Dr Parvez had apprised him of the decision.
22 candidates in fray for top post in Laundora
The number of candidates vying for the top post is the highest in the Laundora Nagar Panchayat, where 22 candidates are in the fray.
The number of candidates vying for the post of Haridwar Mayor is 17 while in Roorkee it is 20.
Time ripe for dissidents
With just two weeks to go for the civic bodies' elections, dissidents are having a good time.
Naeem Qureshi, a close associate of the Haridwar MP, who, along with Rao Affaq Ali, was shown the door for "misbehaving" during Rahul Gandhi's visit to Dehradun on March 8, is all set to enter the party again.
As a mark of protest, Qureshi had filed his papers as Independent candidate for the post of Haridwar Mayor. Qureshi has a significant hold in the minority community in suburban Jwalapur.
However, during a press conference by Congress mayoral candidate Swami Rishiwaranand today, Naeem Qureshi, along with his supporters, entered the conference room and started talking about "injustice" being done to him.
In the presence of the media, it was ordered that Qureshi's case be taken to the party high command.And from the dais only, it was announced that a fax had been forwarded to state party chief Yashpal Arya, who has assured of Qureshi's re entry into the party.
After this announcement, Qureshi announced that as a loyal party worker, he would not contest the elections as an Independent candidate and would support the Congress candidate.