3 months on, SDM-II post lying vacant
Deepkamal Kaur
Tribune News Service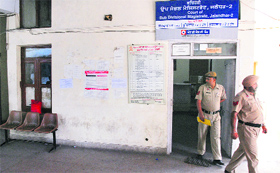 The office of the SDM-II in Jalandhar. A Tribune photograph
Jalandhar, April 15
Even more than three months after the post of SDM-II got vacant on the transfer of IAS officer Isha Kalia, the seat has been lying vacant here.
While the additional charge for the post has been vested with SDM-I Iqbal Singh Sandhu, the office work has been suffering as there are nearly 106 court cases, which have not been taken up ever since Kalia was transferred, owing to which the litigants are being given new dates.
Since the SDM-II has a huge area in Jalandhar-II tehsil, including Basti areas, Kartarpur and Bhogpur, falling in its purview and there is always so much happening around, most officials believe that it is practically not feasible for an official to take care of works in two such big tehsils.
Sandhu said he was trying to take up all important works of Jalandhar-II as far as possible.
One PCS officer shifted, another yet to join
As a newly recruited PCS officer Rakesh Kumar, who was posted as Estate Officer at PUDA, has been shifted, his post is now held by Estate Officer (Regulatory) Amarjit Singh Bains. The ADC (D), Harminder Singh, is yet to take the charge.
Three IAS, 13 PCS officers
Despite two posts lying vacant, there is a sizable number of officials from the civil services. There are three IAS officials posted in Jalandhar, including Deputy Commissioner Shruti Singh, Chief Administrator JDA Supreet Singh Gulati and Director, Land Records, Dharam Dutt Tarnaich.
There are 13 PCS officials posted in the district now.
These include ADC (G) Praneet Bhardwaj, Deputy Excise and Taxation Commissioner and secretary RTA Jaskiran Singh, MC Commissioner Vinay Bublani, MC Joint Commissioner Anupam Kler, SDM-I Iqbal Singh Sandhu, SDM, Phillaur, Jasvir Singh, SDM, Nakodar, GS Dhaliwal, SDM, Shahkot, TN Passi, DTO Dalwinder Jit Singh, GA to DC Dr Sanjeev Sharma and PUDA Estate Officer Amarjit Singh Bains. In addition, retired PCS officer Pritam Singh is serving as Deputy Director, Local Bodies.