Rajiv Gandhi remembered on death anniversary


Special offering of Ganga water at Birla ghat

Described as 'visionary who brought IT revolution in India'

May 21 also observed as Anti-Terrorist Day
Tribune News Service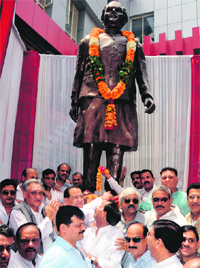 Chief Minister Vijay Bahuguna and other senior party leaders unveil the statue of the former Prime Minister in Dehradun. Tribune photos
Haridwar, May 21
Tributes were paid to former Prime Minister of India Rajiv Gandhi on his 22nd death anniversary in Haridwar today. Various commemorative functions were organised in the city to pay tributes to the great visionary, who scripted the success of Information Technology in India.
Apart from Haridwar, in Roorkee, Laksar, Mangalore, Laundaura and Bhagwanpur, functions were held at Congress offices. Through a press note issued by spokesperson Rajesh Rastogi on behalf of Union Minister of State Harish Rawat , youths were urged to follow the ideals of Rajiv Gandhi, terming him as a visionary, who paved the way for the 21st century resurgent India.
A special offering of holy Ganga water at Birla ghat was made by Congress activists led by veteran leader Sanjay Chopra, who paid tributes to Rajiv, who was assassinated on May 21, 1991, at Sriperumbudur in Tamil Nadu during a poll campaign.
City Congress chief OP Chauhan addressed the party workers at Subash ghat-based Congress office. Chauhan highlighted the imperative role that Rajiv Gandhi played in bringing computer technology to India in mid 80s.
At another function, Uttarakhand Kranti Manch activists remembered Rajiv Gandhi for being close to the common public and party workers, and for his role in strengthening the nation and the Congress. Under his leadership the party won record 411 Lok Sabha seats in 1984 election.
Orators pointed that Rajiv had sharp political acumen, too, as he fielded young candidates Amitabh Bachchan and Madhav Rao Scindia, who emerged victorious against Opposition biggies Hemwati Nandan Bahuguna and Atal Bihari Vajpayee.
"Rajiv Gandhi dismantled the licence raj, laid stress on science and technology, reversed the coup in Maldives, improved relations with the US and was trying to help Sri Lanka in overcoming LTTE, of which he himself became a victim. He was a global visionary leader," remarked Santosh Chauhan, former Women's State Commission chief.
Congress state women's leader Poonam Bhagat said the day was also observed as Anti-Terrorist Day to educate youth of the country to stay away from cult of terrorism and violence.
Bahuguna opens Multipurpose Hall
Rs 600 crore development plan submitted to CM
DEHRADUN: A new multiplex built on Dispensary Road, which has been named as Rajiv Gandhi Multipurpose Hall, was inaugurated by Chief Minister Vijay Bahuguna today. He also unveiled a tall statue of the late Prime Minister Rajiv Gandhi in the premises on his death anniversary today.
Bahuguna remembered Gandhi, saying that he created milestones such as giving power to local bodies and panchayats, voting rights to the youngsters and a striking peace chord with the state struggling with terrorism. He said the state, too, had prepared a proposal with regard
to formulating policies for the welfare of SCs/STs and backward classes and assessment of expenditure under these policies as per their populations. State Revenue Minister Yashpal Arya, who was present on the occasion, shared Rajiv Gandhi's contributions with the audience. State Planning Minister Dinesh Aggarwal said the schemes regarding infrastructure amenities would further strengthen the base of the state. Mayor Vinod Chamoli admired the way development projects were taking shape in the city. Be it widening of Chakrata Road, Adat Bazaar crossing, parking at Tehsil Complex , construction of flyovers, the public was going to benefit from them, he said.
MLA, Rajpur Road, Rajkumar, submitted a proposal of Rs 600 crore to Bahuguna on this occasion. The Chief Minister also laid stones of many projects on the occasion. These include construction of upgradation of Budha crossing, decorative electrical poles from
Dilaram to Mussoorie diversion, installing Indira Gandhi's statue in Indira Market and overbridge on Tehsil-Darshan Lal-Clock Tower-Gandhi Park and Astely Hall crossing.
Rajkumar said he had got a mega plan prepared to deal with the problem of water flooding many parts of his constituency. Sewer lines would be laid down from DL Road to Claimentown, for which a sum of Rs 50 lakh had already been released.
On this occasion, besides many Congress leaders, Saket Bahuguna, Suryakant Dhasmana, State Minister for Urban Development Preetam Singh Panwar, District Magistrate BVRC Purushottam and Vice-Chairman, MDDA, RM Sundaram, were also present.