G R O U N D Z E R O
ground zero

Why the new normal with the US is boring
As US Secretary of State John Kerry comes on a date with India, the pulse needs to quicken. India has to push for moving from interminable dialogues to time-bound deliverables.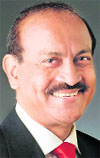 Raj Chengappa
Two years after John Kerry lost the US presidential election of 2004 to George W. Bush, I asked him how he had recovered from such a major setback in life. Kerry, then an important member of the Senate Foreign Relations Committee, was on a visit to India. I liked his answer. He said, "I am a positive person. It doesn't make sense to worry about what happened yesterday if you can't redo it. Let's make tomorrow better."
Kerry will be flying into Delhi today on his first official visit to India as US Secretary of State. There are a lot of 'yesterday' issues that he will be carrying in his briefcase to discuss with External Affairs Minister Salman Khurshid, his Indian counterpart. That includes a perception that he has been soft on Pakistan, unlike his predecessor Hillary Clinton, which has been a cause of much concern to India's foreign policy wonks.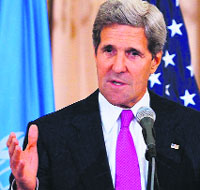 US Secretary of State John Kerry. AFP
Kerry also comes when there is a growing feeling that relations between India and the US, which had peaked during Bush's tenure with the Indo-US nuclear deal, have reached a plateau. Despite a flurry of recent visits and senior level interactions between the world's largest democracy and the most powerful one, the impression was gaining ground that the two had become quite bored of each other. Much like a couple falling out of love, neither country's pulse quickened when they met.
India's External Affairs officials, though, take pains to point out that the facts speak otherwise. Last year, almost every third day saw either an official visit or exchange between India and the US. This year the count has already touched 48. India and the US are currently engaged in 36 dialogue mechanisms across a range of issues that include security, defence, energy, education and technology.
Officials describe all this as the "new normal" in the relations between India and the US. While there are no big-ticket items like the nuke deal, they argue that the collage of smaller ones add up to a substantial canvass. It reminds me of a motto I had on an old T-shirt: 'Normal is boring'.
Nancy Powell, US Ambassador to India, on her visit to The Tribune recently, described the relations between India and the US as having greater "breadth and depth" in recent years. We joked then that one of her predecessors, Robert Blackwell, had once described the relations as 'flat as a chapatti'. Powell was quick on the uptake. She said that since then the relations had become as thick and layered as 'paranthas'.
Nirupama Rao, India's suave ambassador to the US, talked of Kerry's first official visit to India as "setting the tone, direction and pace for the future" of relations between the two countries. If there has been a recent slag in the relations, India too is to blame for it. There has been an indecisive political leadership on a host of issues, whether on international relations or on the economic front, which has left the US frustrated.
The Indo-US nuclear deal, which was to be the cornerstone of the newfound "strategic dialogue" between the two countries, has floundered on the issue of the Indian liability law. US nuclear power companies have complained that it had slammed the door on their chances. India's hesitance in going for the next round of economic reforms has made it a less attractive proposition for US investors and businessmen. Meanwhile, the US Administration too has been preoccupied with developments in Afghanistan and dealing with an increasingly menacing China that saw India figuring much lower on its list of priorities.
When Kerry and Khurshid meet for the fourth round of the India-US strategic dialogue tomorrow, there will be many issues on the table to discuss, including India's concerns about the situation in Afghanistan, energy deals, including shale gas and nuclear, cooperation in higher education, counter-terrorism and recent revelations about US cyber snooping programmes that have affected India, trade and investment issues, apart from technology collaborations.
Kerry's philosophy of "not worrying about yesterday" and focusing "on a better tomorrow" would come in handy as he engages with his Indian counterpart. The US does recognise that India is an emerging power on the global stage. The challenge for the US now is how to work with India on key regional and international issues. India on the other hand should push for moving from interminable dialogues to time-bound deliverables in each of the 36 areas currently under discussion. That would result in tangible progress and increase the expectation and excitement levels between the two countries. The new normal will then not be boring.
raj@tribunemail.com