Sunday, June 23, 2013, Chandigarh, India
Edition update time 2:30 am (IST)

1,000 dead; rescuers focus on Badrinath
All stranded pilgrims in Kedarnath, Ghangariya & Gangotri rescued | Looming rain poses big threat
Dehradun, June 22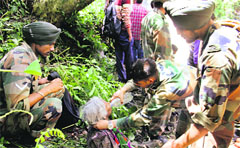 The death toll due to flashfloods and landslips in Uttarakhand has crossed 1,000, said Chief Minister Vijay Bahuguna today.
Army jawans offer water to an old woman on a hillside during rescue operations in Uttarkashi on Saturday.
The epicentre smells of death as bodies rot
Gaurikund/Kedarnath, June 22
An overwhelming stench of bodies and rotting carcasses wafts through the air as one nears the worst-affected stretch of the June-16 catastrophe in Uttarakhand. Rescuers continue to locate survivors, some dangerously close to death due to injuries, starvation and thirst.
Over 70,000 evacuated, thousands still missing
New Delhi, June 22
Continuing evacuation through both aerial and land routes, over 70,000 persons have been moved to safer places from the flash-flood affected areas of Uttarakhand.