LIFE+STYLE

CHANDIGARH

LUDHIANA

BATHINDA

JALANDHAR

AMRITSAR TRIBUNE

JALANDHAR TRIBUNE

BATHINDA TRIBUNE

JAMMU TRIBUNE

KASHMIR TRIBUNE

DELHI

DEHRADUN

DEHRADUN PLUS
6-yr jail for PPSC ex-chief Ravi Sidhu in bribery case
Ropar, July 15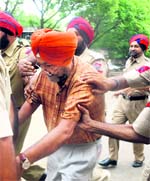 Ropar Additional District and Sessions Judge KS Bajwa today sentenced Ravi Sidhu, former chairman of the Punjab Public Service Commission (PPSC), to six years imprisonment with a fine of Rs 1.50 lakh for accepting an illegal gratification of Rs 5 lakh from an Assistant Excise Inspector

PPSC ex-chairman Ravi Sidhu outside Ropar court on Monday. Tribune photo

Veil of secularism better than communal nakedness: Cong
New Delhi, July 15
Stung by BJP Campaign Committee chief Narendra Modi's remarks yesterday that the Congress hides behind the veil of secularism when confronted with a crisis, the ruling party hit out at the Gujarat Chief Minister today saying the veil of secularism was better than the nakedness of communalism.
Army Chief in Srinagar, reviews security situation
Jammu, July 15
Army Chief General Bikram Singh on Monday reviewed the overall security situation in the state amid the spurt in insurgency, Chinese misadventures at the Line of Actual Control (LAC) in Ladakh and intrusion attempts along the Line of Control (LoC). The General was given detailed feedback by his top commanders at Srinagar on Day 1 of his two-day visit.
OTHER PAGES

PUNJAB: Justice Kuldip panel for abolishing institution of patwaris


HARYANA: 3 killed in shootout over land


HIMACHAL: Law Dept's opinion sought on merging doctors' cadre


CHANDIGARH: Illegal constructions on 254 acres


LUDHIANA: Punjab audit team's rap for GLADA


DELHI: 47-yr-old woman injured in acid attack


Business:

Inflation snaps 4-month declining trend, rises to 4.86% in June

OPINIONS: Change in Bhutan


NATION: Maharashtra reinstates policeman who was assaulted by MLAs


SPORTS: Tainted stars sprint away from doping charges

WORLD: Top Islamist gets 90 years jail for B'desh war crimes


The tribune guide to best colleges

Budget
2013-14

INDIA CHINA WAR 50 YEAR LATER

YEAREND SPECIAL: 2012

Year of survival

The tribune 130 years
a witness to history
book released by prime minister manmohan singh

Guide to best colleges

Results of Punjab Assembly Polls 2012

HIMACHAL VOTES 2012

EARLIER FEATURES
The tribune DEBATE asli vs naqli chandigarh — part II
Low-down about the high rise of New Chandigarh
Chandigarh, July 15
Chandigarh is growing, growing, and phew, growing! The easel that supports the vast canvass of City Beautiful is being forced to live with its unwanted child, Mullanpur, nay, New Chandigarh, spread over 15,000 acres to the north-west of the original city. The fear is that there would be a permanent umbilical chord with Ma Chandigarh.

Tainted stars sprint away from doping charges
Jamaica, July 15
Three of Jamaica's top athletes including Asafa Powell have denied taking banned substances after the Jamaica Anti-Doping Commission (JADCO) confirmed that five of the country's athletes have tested positive for illegal substances.
Money laundering: RBI fines 22 banks
New Delhi, July 15
The Reserve Bank of India today imposed fines totalling Rs 49.5 crore on 22 private and public sector banks, including SBI, PNB and Yes Bank for violating KYC/anti-money laundering norms. It also gave cautionary letters to seven banks, including Citibank and Stanchart, following an expose made by an online portal." After considering the facts of each case...the Reserve Bank came to conclusion that some of the violations were substantiated and warranted imposition of monetary penalty..." the Central bank said in a statement.

New Bhutan govt keen to boost ties with India
July 15, 2013
Roll out food scheme quickly: Sonia to CMs
July 14, 2013
2002 riots: Modi says did no wrong
July 13, 2013
Allahabad HC puts on hold caste-based rallies in UP
July 12, 2013
Convicted lawmakers to lose membership: SC
July 11, 2013
Bodh Gaya blasts probe handed over to NIA
July 10, 2013
13 bombs were planted, says Shinde
July 9, 2013
9 serial blasts rock Bodh Gaya
July 8, 2013
India, China to scale up defence ties
July 7, 2013
Freebie offers vitiate poll process: SC
July 6, 2013
Food security ordinance raises Opposition hackles
July 5, 2013