LIFE+STYLE

CHANDIGARH

LUDHIANA

BATHINDA

JALANDHAR

AMRITSAR TRIBUNE

JALANDHAR TRIBUNE

BATHINDA TRIBUNE

JAMMU TRIBUNE

KASHMIR TRIBUNE

DELHI

DEHRADUN

DEHRADUN PLUS


New Delhi, July 14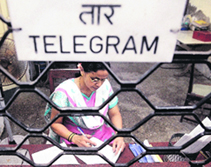 Curtains came down today on the 163-year-old telegram service in the country - the harbinger of good and bad news for generations of Indians - amid a last minute rush of people thronging telegraph offices to send souvenir messages to family and friends.
Telegram, harbinger of good & bad news, dies at 163
New Delhi, July 14
For many who thronged the small room in the Central Telegraph Office at Janpath here on Sunday, it was their first and last chance to send a message to their loved ones using the 163-year-old service, the high-speed carrier of good and bad news for generations of Indians before the telecom revolution.
Two Chinese choppers 'violate' Indian airspace
Jammu, July 14
In an incident that could further increase tension on the high Himalayan border between India and China in the northern sector, two Chinese army helicopters have violated Indian airspace in the Chumar sector in Ladakh division of Jammu and Kashmir.
OTHER PAGES

PUNJAB: Shops razed, Jallianwala Bagh traders stare at uncertain future


HARYANA: Roadways staff on warpath against Delhi Police again


HIMACHAL: Bharti Walmart's procurement centre boon for farmers


CHANDIGARH: Three waste bins for Rs 28,125


LUDHIANA: 70 diarrhoea cases, 2 deaths in 5 days


DELHI: Lid off RPF exam scam, constable held


Business:

Petrol dearer by Rs 1.55

OPINIONS: Modi's puppy talk

SPORTS: A bridge too far for oz

WORLD: ElBaradei sworn in interim vice-president


The tribune guide to best colleges

Budget
2013-14

INDIA CHINA WAR 50 YEAR LATER

YEAREND SPECIAL: 2012

Year of survival

The tribune 130 years
a witness to history
book released by prime minister manmohan singh

Guide to best colleges

Results of Punjab Assembly Polls 2012

HIMACHAL VOTES 2012

EARLIER FEATURES
Kudankulam plant to start power production in 20 days
Puducherry, July 14
The controversy-hit Kudankulam Nuclear Power Project (KNPP) will start its initial production of 400 MW electricity within 20 days, Union Minister V Narayanasamy said today.

Petrol dearer by Rs 1.55
Fourth increase in six weeks; falling rupee to blame


New Delhi, July 14
Petrol price has been hiked again by Rs 1.55 a litre with effect from midnight today, the fourth increase in six weeks, as the falling rupee is taking a toll on oil imports. (Details on Business page)

Maya justifies caste-based rallies
Lucknow, July 14
In defiance of the Allahabad High Court order, Bahujan Samaj Party chief Mayawati today declared to continue holding caste-based rallies. The rallies would now be called Samajik Bhaichara sammelans' (social brotherhood meetings) instead. (Details on Nation page)


Roll out food scheme quickly: Sonia to CMs
July 14, 2013
2002 riots: Modi says did no wrong
July 13, 2013
Allahabad HC puts on hold caste-based rallies in UP
July 12, 2013
Convicted lawmakers to lose membership: SC
July 11, 2013
Bodh Gaya blasts probe handed over to NIA
July 10, 2013
13 bombs were planted, says Shinde
July 9, 2013
9 serial blasts rock Bodh Gaya
July 8, 2013
India, China to scale up defence ties
July 7, 2013
Freebie offers vitiate poll process: SC
July 6, 2013
Food security ordinance raises Opposition hackles
July 5, 2013