M A I N N E W S
The tribune begins a DEBATE

'Asli' Chandigarh now gets a 'naqli' one
Punjab Govt's ploy to sell Mullanpur as New Chandigarh
Rajmeet Singh & Akash Ghai
Tribune News Service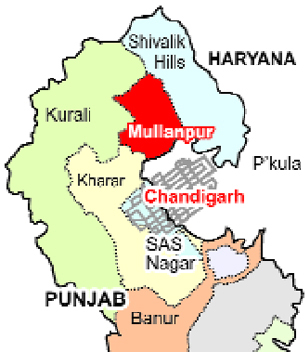 Chandigarh, July 14
A stone's throw from the City Beautiful's north-west, a township is turning development on its head. Caught in a feverish name game, it is fast losing its rural identity. Mullanpur, they call it. New Chandigarh, it shall be, says the Punjab government.
Mullanpur promises to be a buyer-seller paradise and is set to proliferate into an urban legend. Get up-close with it: A high-rise commercial tower juts out like a sore thumb in the midst of verdant agricultural fields. Several villas and housing projects seem to slice through its bucolic visage, and many more, frighteningly disproportionate to the City Beautiful's pristine preserve, will appear on the horizon in years to come. Chandigarh is, after all, a total sellout, with 'New' as only an appendage! In about 17 years, the new city will have over 3 lakh inhabitants, about one-fifth of today's Chandigarh's population. The estimates of the resultant civic pressure on the original city are not known.
What's in it?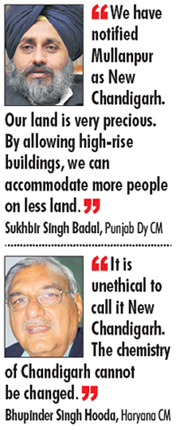 A Singapore firm, JURONG Consultants Pvt Ltd, on the request of Greater Mohali Area Development Authority (GMADA), has prepared a report, Mullanpur Local Planning Area Master Plan 2008- 2031. New Chandigarh will be divided into 20 sectors. As the Local Planning Area (LPA) would have about 32 large and medium-sized rural settlements, their population would be merged into the new town with special schemes. As the LPA has a number of intertwining water bodies, the GMADA has also planned to develop it as a waterfront urban area. There are three main rivulets, the Jayanti Devi ki Rao, Siswan and Patiala ki Rao, flowing through the LPA.
As far as its vertical growth is concerned, there seems to be no limit, subject to approval from the Air Force.
The master plan of New Chandigarh, spread over 15000 acres, has been changed to make way for a commercial centre and wider roads. Says AK Sinha, GMADA Chief Administrator: "We are acquiring around 1,700 acres for Educity and an additional 161 acres for Medicity. For widening the planned roads, connecting New Chandigarh to Chandigarh, we may need about 135 acres more". The notification for land acquisition of land has been issued.


The population density limit, too, has been raised from 100 persons per acre (PPA) to 150 PPA in zone-1 and zone-2 and 200 in Zone 3. Group housing societies too have been given relaxations: from 175 flats to 375 in case of up to 1200 sq ft flat, from 175 to 300 in case of 1,200-3,000 sq ft flat and 200 in case of above 3,000 sq ft.

Political fallout
The naming of the new city, since it borrows its name from Chandigarh, a Union Territory and is the twin capital of Haryana and Punjab, has touched a raw nerve of Haryana Chief Minister Bhupinder Singh Hooda. He says it is "unethical" to call it New Chandigarh. "The chemistry of Chandigarh cannot be changed," he said at a function recently. His Punjab counterpart, Parkash Singh Badal, however, insists Punjab has the right to name or rename any city on the pattern of Chandigarh.
Sukhbir Badal, Deputy CM in charge of housing, said: "We have notified Mullanpur as New Chandigarh. Our land is very precious. By allowing high-rise buildings, we can accommodate more people on less land. By increasing the density, there would no effect on eco-fragility as the area has been divided into zones. There is no danger to any zone".
Name game


There is no logic in renaming Mullanpur. It fuels realty speculation and cashes in on Chandigarh's name.
— Jit Kumar Gupta, ex-VP, Indian Institute of Architects
Chandigarh is a UT, Mullanpur belongs to Punjab. How can Punjab name a city in its territory as New Chandigarh?
— Surinder Bahga, president, Chandigarh-Punjab chapter of Institute of Architects
"There is no logic in renaming Mullanpur. It fuels realty speculation and cashes in on Chandigarh's name," says Jit Kumar Gupta, former vice president of Indian Institute of Architects.
Taraninder Singh, who launched a mega housing project, says the new name has evoked renewed interest. "The number of queries has increased drastically after the renaming. The people want to know how the new township would compete with Chandigarh, what kind of facilities would be there," he says.
Rakesh Sharma, director of a housing project, says the question remains if New Chandigarh is only an extension of City Beautiful. The renaming has surely bearing fruits.
Surinder Bahga, president of the Chandigarh-Punjab chapter of Institute of Architects and a nominated councilor in Chandigarh Municipal Corporation, says: "The Punjab Government cannot and should not name the yet-to-be-built city as New Chandigarh. Unlike Mumbai's extension, called Navi Mumbai, it is not Chandigarh's extension. Also, Delhi city belongs to the Delhi government and Mumbai falls in the jurisdiction of Maharashtra Government. In the case of Chandigarh, it is a UT, whereas Mullanpur belongs to Punjab. How can Punjab name a city in its own territory as New Chandigarh?"