LIFE+STYLE

CHANDIGARH

LUDHIANA

BATHINDA

JALANDHAR

AMRITSAR TRIBUNE

JALANDHAR TRIBUNE

BATHINDA TRIBUNE

JAMMU TRIBUNE

KASHMIR TRIBUNE

DELHI

DEHRADUN

DEHRADUN PLUS


The tribune DEBATE
asli vs naqli chandigarh — part III
How Punjab's netas, babus and dalals plotted to make a killing
Chandigarh, July 16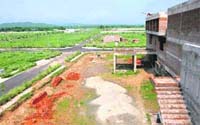 The 15,000-acre New Chandigarh (Mullanpur) project is a veritable realty magic conjured up by its influential protagonists to hard-sell it. Rewind to 2005: 200 bureaucrats form a group housing society in Mullanpur and Shingariwala, The Punjab IAS-PCS Officers Cooperative Housing Building Society.
A view of the Punjab IAS-PCS Officers Cooperative Housing Building Society in New Chandigarh. Tribune photo: Manoj Mahajan
Bhakra-Beas power projects
Punjab, Haryana owe Rs 1,497 cr to HP, Centre tells apex court
New Delhi, July 16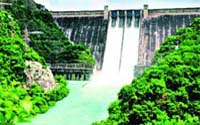 The Centre today informed the Supreme Court that Punjab and Haryana would have to pay a compensation of Rs 1,497.39 crore to Himachal Pradesh for short supply of electricity from Bhakra and Beas projects since 1966. Appearing for the Centre, Additional Solicitor General Mohan Jain told a Bench comprising Justices AK Patnaik and MY Eqbal that alternatively Punjab and Haryana could compensate Himachal by allotting additional energy over a period of 30 years if they had any difficulty in making cash payment.
OTHER PAGES

PUNJAB: Family friend among 5 held for kidnapping industrialist's son


HARYANA: Chief Minister's air travel costs exchequer Rs 53,000 per day


HIMACHAL: Sanjay Kumar tipped to be new DGP


CHANDIGARH: 2 students, driver killed in accident


LUDHIANA:
Bioremediation project hits roadblock


DELHI: Civic bodies to cut commercial tax by 12%


Business:

India unlikely to grow at 6.5% in FY14: Montek

OPINIONS: RBI strikes hard

SPORTS: No hope in fight against dope

WORLD: Egypt's post-Mursi interim cabinet sworn in


The tribune guide to best colleges

Budget
2013-14

INDIA CHINA WAR 50 YEAR LATER

YEAREND SPECIAL: 2012

Year of survival

The tribune 130 years
a witness to history
book released by prime minister manmohan singh

Guide to best colleges

Results of Punjab Assembly Polls 2012

HIMACHAL VOTES 2012

EARLIER FEATURES

'Toothless' Punjab Lokpal battles staff shortage
Chandigarh, July 16
The Punjab Lokpal seems to be ineffective in fighting cases of corruption, fraud and misuse of authority by politicians holding government offices in the absence of adequate staff to investigate complaints. The state Lokpal further lacks powers to probe government officials or take suo motu cognisance of acts of corruption by those holding public offices.
HC rejects Sajjan's plea for quashing charges
New Delhi, July 16
The Delhi High Court today dismissed Congress leader Sajjan Kumar's plea for quashing the charges framed by the trial court against him for his role in rioting and the killing spree against Sikhs in a case relating to the 1984 riots in Delhi. Justice Suresh Kait rejected Sajjan's contention that the trial court had framed charges against him on July 7, 2010 without considering the "sterling quality of documents" produced by him to prove his innocence. (Details on Nation page)


No bar on Mumbai dance girls, rules SC
New Delhi, July 16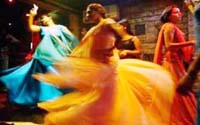 It will be business as usual for over 75,000 dance girls and women rendered jobless by the Maharashtra Government in 2005 by banning dance bars. This has become possible following today's Supreme Court judgment.

One month on, 5,748 still missing in Uttarakhand
July 16, 2013
New Bhutan govt keen to boost ties with India
July 15, 2013
Roll out food scheme quickly: Sonia to CMs
July 14, 2013
2002 riots: Modi says did no wrong
July 13, 2013
Allahabad HC puts on hold caste-based rallies in UP
July 12, 2013
Convicted lawmakers to lose membership: SC
July 11, 2013
Bodh Gaya blasts probe handed over to NIA
July 10, 2013
13 bombs were planted, says Shinde
July 9, 2013
9 serial blasts rock Bodh Gaya
July 8, 2013
India, China to scale up defence ties
July 7, 2013