LIFE+STYLE

CHANDIGARH

LUDHIANA

BATHINDA

JALANDHAR

AMRITSAR TRIBUNE

JALANDHAR TRIBUNE

BATHINDA TRIBUNE

JAMMU TRIBUNE

KASHMIR TRIBUNE

DELHI

DEHRADUN

DEHRADUN PLUS
TRIBUNE EXCLUSIVE
Central probe indicts Punjab minister in book scam


Procurement panel formed against rules


Books not appropriate
New Delhi, July 18


A government-instituted inquiry into the allegations of financial irregularities in the purchase of school library books and science kits in Punjab has found the state government guilty of misappropriating Central funds meant for the purpose by flouting financial norms mandated under the Sarva Shiksha Abhiyan (SSA) and Rashtriya Madhyamik Shiksha Abhiyan (RMSA).

bihar Mid-day meal horror
Govt panel set up to monitor scheme
HRD Ministry writes to Maharashtra Govt after pests found in meals
New Delhi, July 18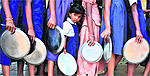 The Centre today decided to constitute a permanent committee under the chairmanship of Human Resource Development (HRD) Minister to review the implementation of the Mid-Day Meal (MDM) programme and ensure quality, safety and hygiene standards.
SC slaps ban on free sale of acid
New Delhi, July 18
The Supreme Court today banned the unrestricted retail sale of acids, hiked the compensation to acid attack victims to Rs 3 lakh and directed the Centre and the states to make the offence non-bailable as part of the steps to sternly deal with the rising trend of jilted men misusing the chemical to disfigure the girls who spurned their advances.
OTHER PAGES

PUNJAB: Land grab probe comes to a halt


HIMACHAL: Mid-day meals leading to fall in students' strength


CHANDIGARH: Estate Office, MC put on notice


LUDHIANA: School bus operators end strike


DELHI: 21 students fall sick after consuming iron capsules


Business:

CoalMin 'ignored' norms while allocating blocks

OPINIONS: Adult at 18 only

SPORTS: Alarm Bell rings for Australia

WORLD: Indo-Pak ties crucial for Afghan peace: Cameron


The tribune guide to best colleges

Budget
2013-14

INDIA CHINA WAR 50 YEAR LATER

YEAREND SPECIAL: 2012

Year of survival

The tribune 130 years
a witness to history
book released by prime minister manmohan singh

Guide to best colleges

Results of Punjab Assembly Polls 2012

HIMACHAL VOTES 2012

EARLIER FEATURES
Gurgaon CJM wife's death: Autopsy finds three bullet wounds
Gurgaon/Panchkula, July 18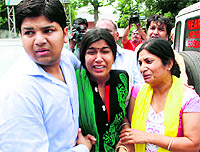 The mystery shrouding the death of Chief Judicial Magistrate Ravneet Garg's wife Geetanjali Garg has deepened further with both post-mortem report and her relatives hinting at planned murder.

Grieving relatives of CJM's wife in Gurgaon on Thursday.


The tribune DEBATE asli vs naqli chandigarh — part V


Will 'Naqli' be third time lucky?
Chandigarh, July 18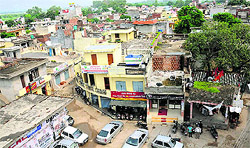 Chief Minister Parkash Singh Badal's latest move to rechristen Mullanpur as 15,000-acre New Chandigarh is the third such attempt since 1993.
A view of Mullanpur Garibdass village that forms part of the New Chandigarh township. Tribune photo: Manoj Mahajan


High-flying Punjab Governor's travel bill: Rs 38,000 per day


Chandigarh, July 18
Governor Shivraj Patil costs Punjab exchequer more than Rs 38,000 daily on account of his air travel to different parts of the country. A sizeable number of these flights are to Delhi and parts of his home state, Maharashtra.
Bihar mid-day meal tragedy toll 22; 50 more kids fall ill
July 18, 2013
Govt revises FDI cap, allows 100% in telecom, 49% in insurance
July 17, 2013
One month on, 5,748 still missing in Uttarakhand
July 16, 2013
New Bhutan govt keen to boost ties with India
July 15, 2013
Roll out food scheme quickly: Sonia to CMs
July 14, 2013
2002 riots: Modi says did no wrong
July 13, 2013
Allahabad HC puts on hold caste-based rallies in UP
July 12, 2013
Convicted lawmakers to lose membership: SC
July 11, 2013
Bodh Gaya blasts probe handed over to NIA
July 10, 2013
13 bombs were planted, says Shinde
July 9, 2013