Stamp paper shortage troubles residents again
Amritsar, August 7
The District Court Complex here is once again grappling with the shortage of stamp papers, forcing people to buy the same at inflated rates. People in need of stamp papers complain of being forced to shell out more than the stipulated money. They allege that traders in collaboration with officials are minting money, as the former have hoarded these to sell at the opportune time.


3 booked for culpable homicide
Amritsar, August 7
Nearly a week after the killing of a youth, identified as Davinder Singh, who had fallen victim to the rumours of a gang of robbers on the prowl in the Maqboolpura area, the police has booked three persons on the charges of culpable homicide.
MC fails to recover Rs 10 crore from govt offices
Amritsar, August 7
Even as the House Tax Department of the Amritsar Municipal Corporation has expedited the recovery process of house tax dues from defaulters, it has failed to recover a whopping Rs 10 crore from various government offices so far. It has been learnt that departments of police and education are yet to pay their dues to the MC.
Govt vehicles take law for a ride on city roads
Amritsar, August 7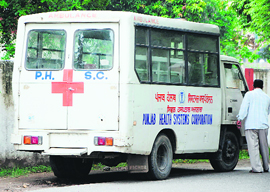 With rampant traffic violations in the city, government vehicles too seem to be on the wrong side of the law as some of them are plying on the road without proper number plates. Interestingly, an ambulance of the District Health Department was spotted in the cavalcade of Chief Minister Parkash Singh Badal recently without registration plate. The vehicle carrying local doctors was on emergency duty with the Chief Minister. The ambulance had Civil Hospital Ajnala written on it.
A Health Department ambulance without number plate in Amritsar. Photo: Vishal Kumar

Workshop on astronomy, physics concludes at DAV College
Amritsar, August 7
On the second day of the two-day workshop organised by the Department of Physics, DAV College, Amritsar, in association with Vigyan Prasar, Department of Science and Technology, Government of India, students explored the field of physics and astronomy. Experts from Vigyan Prasar and various other national institutes interacted with the students.
Woman accuses her husband of murder bid
Amritsar, August 7
A woman today accused her husband for attempting to kill her and her son over a property dispute. Jatinder Kaur, the victim, a resident of Old Jail road, told the police that her husband Major Singh shot at her and her son Jaskaran Singh in order to eliminate them.
City youth to study child mortality causes in India
Amritsar, August 7
Medico Harman Boparai, a master's degree holder from the prestigious Journalism School of Columbia University in New York, is in India to study the causes of childhood mortality in the country. He is representing international news organisation GlobalPost.
Defence Minister invites criticism for his Parliament remark
Amritsar, August 7
The All India Hindu Shiv Sena president Surinder Billa today claimed to have received response from the Ministry of Defence about the Indian prisoners languishing in various jails of Pakistan.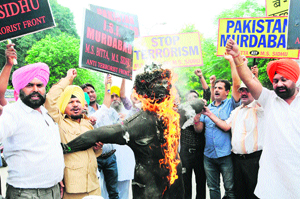 Anger: Members of the All-India Anti-Terrorist Front burn an effigy of Pakistan to protest against the killing of Indian soldiers, in Amritsar on Wednesday. Photo: Vishal Kumar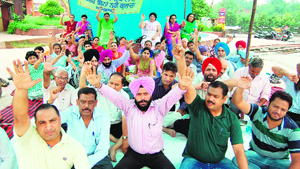 Dissenting voices: Members of the Punjab State Aided School Teachers Union protest against the state government at Bhandari Bridge in Amritsar on Wednesday. Photo: Sameer Sehgal


Three cops booked for dereliction of duty
Amritsar, August 7
Three policemen have been booked for dereliction of duty after a woman, identified as Paramjit Kaur, alias Pammi, a resident of Sarhali, allegedly involved in selling habit-forming drugs, managed to give a slip to them from Guru Nanak Dev Hospital where she was admitted.

Border area farmers meet BSF DIG
Amritsar, August 7
A delegation of farmers from the border area met Border Security Force DIG MF Farooqi under the banner of the Border Area Sangarsh Committee and Jamhoori Kisan Sabha. The farmers apprised the DIG of various problems faced by them while tilling their land across the fence.

Omaxe to open concept mall soon


Amritsar, August 7
Omaxe Ltd is set to open its concept Maxe Value Mall soon. The mall will house international and national brands to market retail outlets. Moving on from seasonal sales and concept retail shopping, the mall will be the first-of-its-kind here.

Awareness programme on breastfeeding organised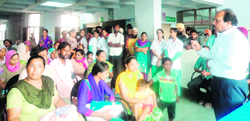 Amritsar, August 7
An awareness programme to educate the mothers about the need of breastfeeding for newborns was organised today at the Jallianwala Bagh Martyrs Memorial Civil Hospital here.
People attend an awareness session on breastfeeding at the Civil Hospital in Amritsar on Wednesday. A Tribune Photograph