M A I N N E W S
Centre's sop for HP: Capital investment subsidy extended
Rakesh Lohumi/TNS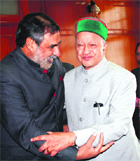 Union Commerce Minister Anand Sharma with CM Virbhadra Singh in Shimla.
Shimla, September 8
Union Commerce and Industries Minister Anand Sharma on Sunday announced continuation of capital investment subsidy and transport subsidy to Himachal Pradesh, sanctioned new projects involving an investment of over Rs 170 crore and granted in-principle approval to seven more projects worth about Rs 165 crore.
The capital investment subsidy to the state, which expired on January 7 this year, would now continue till March 31, 2017, and a new more liberal scheme would replace the existing transport subsidy scheme. The capital investment subsidy was a major component of the expired industrial package.
Regarding the exemption in excise duty and other components of the package, Sharma said Chief Minister Virbhadra Singh had made a strong case and his ministry had made a favourable recommendation for restoration of the package to Himachal Pradesh and Uttarakhand. Sharma had also taken up the matter with the Prime Minister and the Finance Minister. Sharma also announced setting up of the first regional centre of Indian Institute of Foreign Trade, Kolkata, for capacity building of small and medium enterprise near Shimla at a cost of Rs 30 crore. The state government will provide 5 acres for the institute, which would also offer part-time MBA and other courses.
The new schemes sanctioned included a Rs 16.5-crore apple juice concentrate (AJC) plant at Gumma; Rs 12 crore project to upgrade of AJC plant at Parwanoo; a Rs 27 crore warehousing project, Rs 8 crore composite pharmaceutical testing laboratory and Rs 11 crore container parking facility -- all at Baddi; Rs 12.34 crore electrical infrastructure development project and Rs 20 crore common effluent treatment plant at Kala Amb and Rs 16.35 crore power supply up-gradation project for Baddi.
Sharma said the ministry had granted in principle approval to seven more projects that would be sanctioned after the state completed the required documentation. These include a Rs 15-crore common effluent treatment plant at Taliwal; Rs 20 crore Gondpur road up-gradation project; Rs 15 crore project to strengthen power transmission and distribution system in Taliwal; and a Rs 15-crore power infrastructure project for Paonta Sahib. Besides, three integrated townships have also been proposed to be set up at Pandoga in Una, Dabhota in Solan and Kandrori in Kangra at a cost of about Rs 100 crore.
He said work on the Rs 17-crore spice park at Nadaun that was delayed due to the failure of the previous BJP regime to provide land would start soon. An extension centre of the park would be set up in Sirmour district.
Bonanza for state
New projects involving investment of over Rs 170 crore sanctioned
In-principle approval to seven projects worth about Rs 165 cr
First regional centre of Indian Institute of Foreign Trade (Kolkata) to come up near Shimla at a cost of Rs 30 cr
Apple juice concentrate plant to be opened at Gumma; Parwanoo plant to be upgraded
Warehousing project, composite pharmaceutical testing laboratory and container parking facility for Baddi