India bolsters security of its assets in Afghanistan
Ashok Tuteja/TNS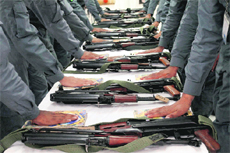 Afghan police officers take oath during their graduation ceremony at a police academy in Jalalabad. — Reuters
New Delhi, September 8
In the wake of the high-profile car bomb attack on the Indian Consulate at Jalalabad last month, India has intensified security at its embassy in Kabul as well as the four missions located in the battle-scarred nation.
Some 80 commandos of the Indo-Tibetan Border Police (ITBP) have been flown to Afghanistan to join nearly 220 Indian personnel guarding the mission in Kabul and the Consulates at Jalalabad, Mazar-e-Sharif, Herat and Kandahar.
Many in Kabul are, however, interpreting New Delhi's decision to bolster the security of its assets as a reflection of lack of faith in the capabilities of the Afghan National Security Forces (ANSF) and the increased activities of Pakistani intelligence operatives in the war-torn nation.
But New Delhi has clarified to Kabul that the ITBP personnel would continue to protect the embassy as well as Consulates from inside their premises while the external security could remain in the hands of Afghan forces, official sources said.
Afghan authorities have also been told that fresh measures were aimed at securing Indian interests as well as providing better security to Indians working under hostile circumstances so as to contribute to reconstruction and other developmental activities in that country.
India believes that Pakistan's ISI would continue to target Indian interests in Afghanistan in the run-up to the withdrawal by NATO troops in 2014 to force India to reconsider its massive engagement in the troubled nation. Clearly, Pakistan's attempt is to gain 'strategic depth' in its neighbouring nation and influence the course of affairs after the drawdown by foreign troops.
New Delhi has, however, remained firm on its commitment to stay the course in Afghanistan despite terror attacks orchestrated by Pakistan-based groups on Indian assets.
There are concerns within Afghanistan that foreign beggars, particularly Pakistanis, might be involved in working for their spy agencies. In recent months, many incidents have come to light in which the beggars are unable to speak Pashto or Dari, Afghanistan's main languages, but are very well versed in Urdu.