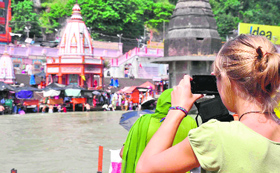 A foreigner captures a view of the Ganga at Brahamkund, Har-ki-Pauri, in Haridwar on Sunday. Tribune photo: Rameshwar Gaur

Sanitation problem continues to haunt Doon
Dehradun, October 5
The issue of sanitation continues to haunt for one reason or the other. The garbage from garbage bins is not being lifted for the past three days in most parts of the city. SPML company, which is running Doon Valley Waste Management Project (DVWM), has accused the administration of Dehradun Municipal Corporation for this. Despite assurance and budget release, the road to trenching ground has not been built. Not only this, there is utter lack of clarity about the allocation of responsibilities between DMC and DVWM, which is leading to such problems time and again.
Jaagar singer Basanti Bisht enthrals audience
Mussoorie, October 6
Jaagar singer Basanti Bisht mesmerised the audience at a function held under the aegis of the Pittsburgh University study tour department at Hanifl centre here today. Basanti Bisht began by singing a song to invoke Goddess Nanda Devi through her traditional and unique musical style, which was much appreciated by the audience.
Mention criminal history of accused in charge sheet, says DGP
Dehradun, October 6
After reviewing the charge sheet of criminal cases, BS Sidhu, Director-General of Police (DGP), Uttarakhand, has directed the police to specifically mention the criminal history of the accused in the charge sheet, which the court could take into cognisance. The Director-General of Police said the culprits get benefit due to the absence of mention of their criminal history in the charge sheets filed in the court by the police.
Talwandi college students demand appointment of more faculty
Dehradun, October 6
A delegation of students of Government Degree College, Talwadi, Chamoli, here today met Speaker of the Legislative Assembly Govind Singh Kunjwal, demanding the appointment of more faculty and improving the college infrastructure. The delegation, led by students'leader Pawan Rawat, informed the Speaker that against the 11 sanctioned posts of teacher, there was only one teacher in the college.
Ecole founders' day
Dehradun, October 6
Ecole Globale International Girls' School, Horrawala, Dehradun, celebrated its 2nd founders' day here today. On the first day of the two-day celebrations, children's knowledge and talent was showcased through various exhibitions and demonstrations. In the social science presentations, students displayed terracotta jewellery worn during the Harappa and Mohenjo-Daro civilisation.
Senior Cong leader dies of cancer


Dehradun, October 6
Devender Sethi, (56), a senior Congress leader and a former vice-chairman of the Premnagar Cantonement Board, died here on Saturday evening. He was suffering from cancer. He was cremated at the Premanagar crematorium today. Uttarakhand Chief Minister Vijay Bahuguna, Yashpal Arya, State Congress Chief, Suryakant Dhasmana, Congress vice-president and other senior state Congress leaders payed homage to the departed soul.
Unison World School students visit UK
Dehradun, October 6
In an enriching experience, 15 girls of Unison World School, Dehradun, along with two staff members, got an opportunity to study and participate in the International Student Exchange Programme 2013 at St Francis College in United Kingdom (UK) for 21 days.
Guv releases book on Urdu poems
Dehradun, October 6
Uttarakhand Governor Dr Aziz Qureshi today released "Naat-e-Rasool", a collection of Urdu poems in praise of Hazrat Mohammad written by Shaakir Kiratpuri. The governor congratulated the poet. He said all of us should learn from the life and character of Hazrat Mohammad so that we could know how to take people forward who have been awaiting the light of progress and awareness for centuries.
29 cops take part in debate competition
Dehradun, October 6
Sparing some time out from their busy schedule, policemen of seven districts of the Garhwal Range along with PAC battalions took part in a debate competition held at the Dehradun police lines today.
DM: Take dengue cases seriously
Dehradun, October 6
BVRC Purushottam, District Magistrate, has directed the Chief Medical Officer (CMO), Doon Hospital, to facilitate serious examination of the patients coming to the hospital with dengue symptoms and to further provide follow-up treatment with special care in private wards.
Summer Valley School organises annual marathon event
Dehradun, October 6
Summer Valley School organised the annual marathon event today. Students filled with zeal and enthusiasm ran in the marathon with the message of conservation of environment.
Exhibition of products by women in Lifestyles 2013
Dehradun, October 5
Dehradun District Magistrate (DM) BVRC Puroshottam inaugurated the two-day exhibition 'Lifestyles 2013' showcasing products made and marketed by women at the Tussat Centre here today. This year, the exhibition is being organised on the popular theme of 'Mumbai Meri Jaan'. Addressing the organisers and people gathered to see and buy stuff, the DM appreciated the initiative of women and also applauded the quality of stuff showcased in the exhibition. The exhibition is providing platform to hundreds of women who have been working from their houses and making products as their hobby. — TNS
48-year-old man dies in mishap
Dehradun, October 6
A 48-year-old man, identified as Bahadur Singh, was killed after being hit by a HP Roadways bus in the Doiwala area here yesterday. The bus was on its way to Dehradun from Haridwar. The body has been sent for a post-mortem examination. — TNS