M A I N N E W S
Army exposes Pak link; to cut supply chain
Majid Jahangir/TNS
Srinagar, October 6
While the Army claims that they are geared for all eventualities, the massive operation against the heavily armed 30-40 holed up militants along the Line of Control (LoC) in Shalabhato Keran in frontier Kupwara district entered the 13th on Sunday as the intermittent firing continued between the two sides.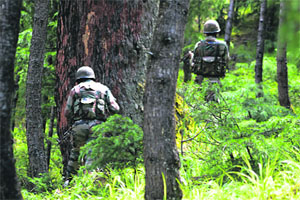 Five Armymen have been hurt in the ongoing gunfight
The Army today displayed the identity card of a militant killed in an encounter in Keran sector while trying to infiltrate. Seven militants were killed in two separate infiltration bids on Friday and Saturday in the same sector.
The identity card of the slain militant showed his identity as Fareed Malik, son of Zufilqar Malik, a resident of Pakistani Occupied Kashmir. The Army also displayed the pictures of the arms and ammunitions recovered from the slain militants.
A heavy exchange of fire has been taking place after a group of 30-40 militants was intercepted near the fence in the Keran sector. The operations are on at a high-altitude area ranging from 10,000 to 12,000 ft with thickly forested steep slopes, deep ravines and crevasses. "An effective cordon is in place with complete control and domination in the area. Extensive searches to neutralise the terrorists are on. With additional inputs coming in, we are geared up for all eventualities," officiating Brigadier General Staff (BGS) 15 Corps, Col Sanjay Mitra told reporters in Srinagar.
While the Army maintains that the situation was under control, the sources, however, said the biggest worry for the Army was the supply chain to the holed up militants.
"We have to cut the militants supply chain to flush them out of the huts and natural caves where they have been hiding for the past 13 days," the Army sources said. "Once the supply line is cut, we will go for a final assault."