LIFE+STYLE

CHANDIGARH

LUDHIANA

BATHINDA

JALANDHAR

AMRITSAR TRIBUNE

JALANDHAR TRIBUNE

BATHINDA TRIBUNE

JAMMU TRIBUNE

KASHMIR TRIBUNE

DELHI

DEHRADUN

DEHRADUN PLUS



US forces capture top Qaida leader in Tripoli raid
Washington, October 6
In daring raids, US commandos have captured a fugitive Al-Qaida leader from the streets of Libya and raided the seaside villa of an Al-Shabab militant in Somalia, signalling America's determination to pursue dreaded terrorists abroad. In a US special forces operation in the Libyan capital of Tripoli, Nazih Abdul-Hamed al-Ruqai, known by his alias Anas al-Libi, was nabbed yesterday.
Don't air grouses in public, Cong tells Haryana unit
Chandigarh, October 6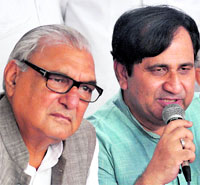 The Haryana Congress has been told not to wash its dirty linen in public anymore. With talks between warring factions, snubs and even notices delivering no results, Congress general secretary Shakeel Ahmed today invoked party loyalty as a reason for its leaders to refrain from going public with their grievances.
Congress general secretary Shakeel Ahmed with Haryana CM Bhupinder Hooda

OTHER PAGES

PUNJAB: Chandigarh belongs to us: Badal


HIMACHAL: Arrest culprits or face protests, ABVP, SFI to police


CHANDIGARH: CAG holds UT responsible


LUDHIANA: Info panel penalises ex-LIT official


DELHI: Two cops sacked for sexual assault

OPINIONS: Slicing the Central pie

BUSINESS: China moots regional trading pact ahead of Manmohan's visit

SPORTS: The Mumbai matinee

WORLD: UN experts start destroying Syrian chemical weapons


Lahore Log

The tribune guide to best colleges

Budget
2013-14

INDIA CHINA WAR 50 YEAR LATER

EARLIER FEATURES
Army exposes Pak link; to cut supply chain
Srinagar, October 6
While the Army claims that they are geared for all eventualities, the massive operation against the heavily armed 30-40 holed up militants along the Line of Control (LoC) in Shalabhato Keran in frontier Kupwara district entered the 13th on Sunday as the intermittent firing continued between the two sides.
Incursion reports baseless: Pak envoy
Hyderabad, October 6
Pakistan is ready for a "broad-ranging, sincere and clear-sighted" dialogue with India to resolve all issues, its High Commissioner to India Salman Bashir said today even as he dubbed as "baseless" the reports of terrorist incursions from its soil into Indian territory.
Fresh rape cases filed against Asaram, son Narayan Sai
Ahmedabad, October 6
More trouble awaits self-styled godman Asaram and his son Narayan Sai with fresh complaints of rape being lodged against them at the Ahmedabad and Surat police stations in Gujarat.
Domestic violence complaints flood Helpline 181
Chandigarh, October 6
Distress calls received on Helpline 181 reveal a shocking state of affairs with a large number of women complaining against brutality at the hands of their family members. Over one-third of the total 3,161 complaints received since the launch of the helpline in August have been from women.
Jagan begins fast, says will move SC against AP division
October 6, 2013
EC declares poll dates for 5 states
October 5, 2013
Lalu gets 5-yr jail in fodder scam
October 4, 2013
Govt withdraws ordinance, Bill on lawmakers
October 3, 2013
No question of me resigning, says PM
October 2, 2013
Lalu guilty in fodder scam, jailed
October 1, 2013
India, Pak DGMOs to draw road map for LoC peace
September 30, 2013
Shut down terror machinery, Manmohan tells Pak at UN
September 29, 2013
Rahul trashes ordinance on convicted netas
September 28, 2013
Twin terror strikes in Jammu; 10 killed
September 27, 2013
Terror, LoC tension, trade to dominate PM-Sharif talks
September 26, 2013