M A I N N E W S
Fresh rape cases filed against Asaram, son Narayan Sai
Manas Dasgupta
Ahmedabad, October 6
More trouble awaits self-styled godman Asaram and his son Narayan Sai with fresh complaints of rape being lodged against them at the Ahmedabad and Surat police stations in Gujarat.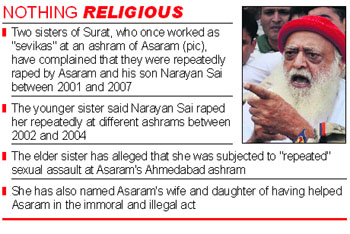 The rape charges levelled by two sisters of Surat, who once worked as "sevikas" in the medicine department at an ashram of Asaram, date back to the period between 2001 and 2007. The complainants had also named Asaram's wife Laxmi and daughter Bharati having helped the two alleged culprits in their acts in outraging the modesty of the two girls.
According to the Surat Police Commissioner Rakesh Asthana, the police had registered two complaints, one against septuagenarian Asaram, now in the Jodhpur jail in connection with another rape case, and another against his son for "sexual assault, illegal confinement, threatening with life and other charges".
While the complaint against Narayan Sai was lodged at the Jahangirpura police station in Surat, the one against Asaram had been transferred to Ahmedabad as some of the "repeated" sexual assaults took place in Asaram's Ahmedabad ashram.
The two sisters, now believed to be in their early thirties, alleged they were taken to various ashrams of Asaram in Gujarat, Madhya Pradesh and Bihar and were repeatedly sexually assaulted.
The younger of the two sisters said Narayan Sai raped her repeatedly at different ashrams between 2002 and 2004. The elder sister had also named Asaram's wife and daughter of having helped Asaram in the illegal act. After they gave up their jobs as "sevikas" and left the ashram in 2007, they were threatened with dire consequences in case they complained against Asaram or his son, the girls alleged.
"These are grave and serious allegations and we have filed cases under several sections of the IPC, including Section 376," Asthana said. He hinted at the possibility of arresting Narayan Sai and said the police was on the lookout for him as he had gone underground. The police would also question Asaram's wife and daughter as they had been named by the complainants, he added.