LIFE+STYLE

CHANDIGARH

LUDHIANA

BATHINDA

JALANDHAR

AMRITSAR TRIBUNE

JALANDHAR TRIBUNE

BATHINDA TRIBUNE

JAMMU TRIBUNE

KASHMIR TRIBUNE

DELHI

DEHRADUN

DEHRADUN PLUS



Chandigarh skyline in danger
Tata Housing Co says won't go ahead with project till SC decides
New Delhi, October 7
Tata Housing Development Company today agreed in the Supreme Court not to go ahead with its high-rise buildings project near Chandigarh's Sukhna Lake till further orders.
Power crisis looms as Andhra simmers
Hyderabad, October 7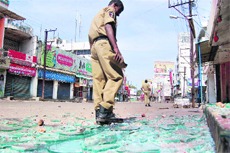 The anti-bifurcation agitation continued to disrupt normal life in Andhra Pradesh, with several cities and towns in Rayalaseema and coastal Andhra regions going without electricity following strike by employees of power utilities.
Shattered glass strewn across the street after anti-Telangana protests in Vijayanagaram on Monday. — PTI



4 Union ministers quit
SAD, Congress men expose each other's 'murky' land deals
Chandigarh, October 7
Land in Punjab, especially land surrounding Chandigarh, is a veritable gold mine. Little wonder that politicians — across the political spectrum and having enough cash reserves — have for long been involved in realty business.
OTHER PAGES

J&K: Terrorists had plans to hold senior Army officers hostage


HIMACHAL: Hill cut down illegally along Dharamsala road


CHANDIGARH: PU detects certificate racket


LUDHIANA: Rs 35 cr loss for Excise Dept


DELHI: Ex-DU lab assistant who attempted immolation dies

OPINIONS: IAF blues
BUSINESS: Need to resolve food security issue in positive way: WTO chief

SPORTS: SC suggests new panel for IPL fixing probe

WORLD: Come up with N-proposals: US to Iran


Lahore Log

The tribune guide to best colleges

Budget
2013-14

INDIA CHINA WAR 50 YEAR LATER

EARLIER FEATURES
Punjab mulls using panchayat land for solar energy units
Chandigarh, October 7
The Punjab Government proposes to amend the Village Common Lands (Regulation) Act, 1961, to allow it the right over panchayat land (often referred to as "shamlat" land) in the state.
J&K House adopts resolution on VK Singh's remarks
Srinagar, October 7
After over three hours of discussion, the State Legislative Assembly adopted a one-line resolution demanding a time-bound enquiry into the allegations levelled by former Army Chief, General (Retd) V K Singh against the political leaders of Jammu and Kashmir.
Lookout notice for Asaram's son
Ahmedabad, October 7


The Surat police today issued a "lookout" notice against Narayan Sai, the son of the self-styled "godman" Asaram Bapu, accused of rape. Surat Police Commissioner Rakesh Asthana said the notice had been sent to all airports in the country to ensure Sai did not flee the country.
Narayan Sai
Curfew, shoot orders in coastal Andhra town
October 7, 2013
Jagan begins fast, says will move SC against AP division
October 6, 2013
EC declares poll dates for 5 states
October 5, 2013
Lalu gets 5-yr jail in fodder scam
October 4, 2013
Govt withdraws ordinance, Bill on lawmakers
October 3, 2013
No question of me resigning, says PM
October 2, 2013
Lalu guilty in fodder scam, jailed
October 1, 2013
India, Pak DGMOs to draw road map for LoC peace
September 30, 2013
Shut down terror machinery, Manmohan tells Pak at UN
September 29, 2013
Rahul trashes ordinance on convicted netas
September 28, 2013
Twin terror strikes in Jammu; 10 killed
September 27, 2013
Terror, LoC tension, trade to dominate PM-Sharif talks
September 26, 2013