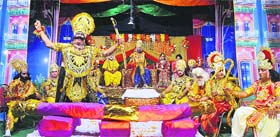 On the first stage
Not many would know that legendary actor Pran played the role of Sita at a local staging of Ramlila. Bhojpuri super-star and Bollywood actor Ravi Kissen also played the role of Sita at local Ramlilas. Also the macho man of Bollywood from Punjab, Sonu Sood, made his first public appearance at the Ramlila in Moga!
American flavour, Indian twist
Salads, subs, seekhs, sammies and pizzas —Quiznos is now open in 11 to take care of your food cravings! An American sub chain with as many as 18 outlets in India, Quiznos offers a variety of international favourites and Indian flavours as well.


Black magic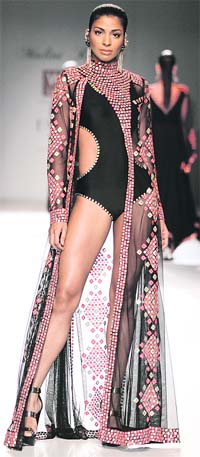 A model showcases a Malini Ramani on the day one of Wills Lifestyle India Fashion Week
itsy bitsy
Tragedy averted
A regular day's shoot turned into a painful one for Chandni Bhagwanani, who plays the lead in the show Amita Ka Amit. On Monday, the actress was walking around the sets while talking on her phone when she tripped over some wires.
Dayashankar to enter Veera
Since the time it began, Star Plus' Veer Ki Ardaas-Veera has gripped the audiences with the touching tale of a brother and sister. The makers are leaving no stone unturned to ensure that this heartfelt story continues to add twists and keep the viewers hooked on to the show. The latest is the introduction of veteran film and theatre actor Dayashankar Pandey who was seen in films like Lagaan, Gangaajal, Swades and Rajneeti.
gyan zone
Natural choice
His first painting is strictly meant for display. It has developed cracks after surviving for 35 years, but artist Hemant Malhotra is still not ready to part with it. Not that it is art at its best but the sentimental value attached to it overshadows the little commercial value it holds.
the 'in' side
Bring Morocco home
Morocco's rich culture is reflected in its alluring interior design style, characterised by vibrant colours and exquisite furnishings. If you're looking to bring an exotic yet elegant feel to your home, you should consider the elegantly mysterious elements found in Moroccan style décor. From vibrant colours to intricately designed wood and mosaic products, this luxurious, dramatic, and exciting style is becoming increasingly popular in modern homes.
star track


Freida's fantasy


Out of range


Commercial approach


Big Boss over films


Sunny becomes Bheem


Kangna gets her place


Off to New York
chatter box


Food for thought


Let the fun begin!


Dayashankar to enter Veera


Tragedy averted


War Chhod Na Yaar


Dream come true