Making the city safe for her
Ratna Raman
The hallmark of a progressive society is how safe its women are. Spectrum zeroes in on various aspects of safety in this special issue. We look at cities like New Delhi, Bangalore, Mumbai & Chandigarh; how architecture contributes to safe spaces; prevention strategies; self-defence techniques,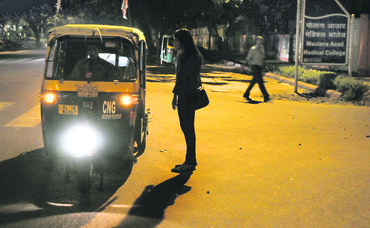 and much more
In reality, New Delhi can be a very difficult place to live in. The weather is mostly too hot or awfully cold and unreliably humid and sultry in between. Residents struggle with diminishing water resources and accumulating garbage that is rarely segregated or recycled because of an absence of will.

Lack of safe public spaces and transport, Delhi is a virtual minefield for women who leave their homes for their livelihood. Tribune photo: Mukesh Aggarwal

---
Streetwise
Forearmed is forewarned
Mriganka Dadwal
Not many women are willing to take the first step towards personal safety. They neither know basic self defence nor have an SOS plan in place. Sexual assaults are at an all-time rise, yet rarely are women either taught or counselled about combating an attacker.
Be (h)appy, be secure
With a click, mobile apps facilitate help for women in distress
Vibha Sharma
In the wake of surging crime rate against women across the whole of country, need for protection for women is felt at all fronts. The tech world cannot remain isolated from these happenings and tech market is not the one to let go of capitalising on this sector either. Many innovative mobile apps have been created which aim to protect women in distress and want help in emergency situations.
---
Urban Jungle
Mumbai
Uneasy in maximum city
Sandhya
There has been a marked rise in crime rates on deserted roads after the drive to clear the footpaths of Mumbai of hawkers. The latter, considered an eyesore by the powers that be, are an important strand in the city's safety net
Bangalore
Unsafe in our Silicon Valley
Sandhya
As the pensioners' paradise becomes a techies' hub, there are contradictions in the city's infrastructure or lack of it. The obvious affluence of the tech crowd leads to a high crime rate
Chandigarh
City Beautiful, really?
Vibha Sharma
With so much of convergence and inflow of people from the region, how can the character of a city stay the same?

---
Action Plan
Have a system in place and monitor it well
Vineet Sharma
As an IIT alumunus, with 20 years of work experience with multinational companies, one feels there is a dire need to attack the menace of unsafe public places through a multipronged approach:
Let society & culture be the drivers of social change
Gender justice and progressive laws signify modernisation
SL Sharma
India is an unsafe society for all, particularly for vulnerable sections of society. Tourists are given advisories to be cautious as India has earned a notoriety internationally as an unsafe destination, especially for women.
---
Blueprint
The architecture of a secure city
Rajnish Wattas
While planning the infrastructure for modern cities or renewing older ones, it should be ensured that there is mixed land use. The streets should always be bustling, well-lit and animated with people

Alone abroad
Niku Sidhu
As more and more women travel abroad for work and leisure, their lifestyle has undergone a sea change. A little caution and a few guidelines can go a long way to ensure solo women travellers are secure even in a foreign land

---
Entertainment
Breaking the mould
Aradhika Sharma
Hindi cinema is witnessing a change. This is reflected in the way actors, who would have once been relegated to roles of mothers and fathers, are setting new benchmarks by diving into roles that are contemporary and have a surprise element
Simon says…
Ervell E. Menezes
Neil Simon, one of America's most prolific and famous playwrights, deals with a range of human eccentricities and mannerisms
Neil Simon has been one of the most famous playwrights of our times because of his incisive style and the infinite variety of subjects dealing with the prevalent society and a whole range of human foibles. "To be sensitive is to feel pain every day," is his well-known line.