M A I N N E W S
A border school in the line of Pak fire
Ravi Krishnan Khajuria
Tribune News Service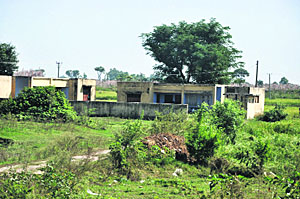 Najwal, Indo-Pak border, October 18
Bizarre it may sound but it is true. At a time when Pakistani troops are showing scant regard for the mutually brokered ceasefire and targeting villages on the Indo-Pakistan border on a regular basis, a school having tiny tots is situated virtually right at the mouth of Pakistani cannons here in the Pargwal sector on the international border.
Government Primary School here in the home constituency of Deputy Chief Minister Tara Chand having 23 tiny tots is located barely 150 metres away from the Zero Line and 500 metres from Dera post of Pakistan Rangers. The Pargwal sector is in Akhnoor sub-division of Jammu district.


150 metres from Zero Line
Government Primary School, Najwal, (see pic) is located barely 150 metres from the Zero Line
On Thursday, an 82 mm mortar fired by the Rangers flew over this school
It exploded in the house nearby, injuring three children and their mother.
The school, which has no compound wall, was constructed in 1975 when there were no hostilities between the two countries
Only yesterday, an 82 mm mortar fired by the Rangers flew over this school and exploded in the house of a farmer Sham Lal injuring four of his family members - three minor children and his mother.
"Thank God, yesterday was a holiday because of Eid and the school was closed. Had the mortar that exploded in the house of Sham Lal hit the school, the situation could have been worse," said Lovely Devi, the lone school teacher.
"During firing, we conduct classes in a verandah instead of class rooms in a bid to ensure safety of children," she added.
"Yes, our children in this school are sitting ducks for the enemy fire. In the past, bullets fired by the Rangers pierced tin sheets on the windows (facing Dera post of Rangers) of their classrooms," said Mohan Lal, a villager.