MAD organises campaign for slum children
Dehradun, October 20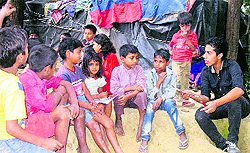 Making a Difference by Being the Difference (MAD), group of city's socially awakened youngsters, organised an education promotion activity 'Each One Teach One' in the Bihari Basti slum area here today. The activity was organised as a part of a larger project in which the group was trying to find out ways and means to directly help the slum dwellers.


A MAD volunteer teaches slum children at Bihari Basti in Dehradun on Sunday. A Tribune photograph

MDDA faces flak for clearing maps of multiplexes
Dehradun, October 20
The Mussoorie-Dehradun Development Authority (MDDA) is facing flak for clearing maps of multiplexes in areas where traffic jams could pose a major problem.
Second day of 'Virasat' dedicated to youth
Dehradun, October 20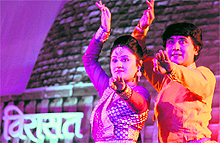 The second day of the cultural festival "Virasat" was dedicated to the youth. Artists, who had received accolades for their performances at a very young age, graced the stage. The day began with the commencement of a photo exhibition on "Rediscovering Dehradun" at Virasat village. The photographs of local photographers have been displayed in the exhibition.


Arushi Nishank performs at the "Virasat", a cultural fest, in Dehradun. Tribune photographs

Music, flute can never be far from Vrindavan: Chaurasia
Dehradun, October 20


Creating a slice of Vrindavan at his Gurukul is the closest that famous flutist Pandit Hari Prasad Chaurasia could get to the nature in the suburban Mumbai. The international musician has always sought inspiration from Lord Krishna and has always maintained that the humble flute owed its origin to Lord Krishna who mesmerised the people of Vrindavan with his soulful tunes.


Pandit Hari Prasad Chaurasia
Cops fail to nab 2 runaway criminals
Dehradun, October 20
The 45-year-old extortion and kidnapping convict, Kamlesh Mittal 'Titu', who allegedly fled from Doon Hospital on October 17, has not been traced yet.
Assam Regiment battalion raising day
Dehradun, October 20
The Fourteenth Battalion of the Assam Regiment today observed its 28th Raising Day at Shahid Shahid Durga Mall Park in Dehradun.
Entrepreneurship awareness camp held at Graphic Era varsity
Dehradun, October 20
Entrepreneurship cell of IIT, Kharagpur, is going to organise an entrepreneurship awareness camp at Graphic Era University Dehradun on October 21.
Devotees take out shoba yatra
Dehradun, October 20
Chief Minister Vijay Bahuguna flagged off a shoba yatra on the occasion of Valmiki Jyanti here recently. The yatra was organised by the Valmiki Samaj Kalyan Samiti.
Uttarakhand Police win inaugural match
Dehradun, October 20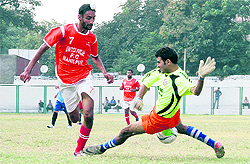 The Uttarakhand Police, Dehradun, won the inaugural match of the 2nd Narendra Singh Kharola Memorial All-India Football Tournament-- The Doon Cup-2013-- after thrashing the Northern Railway, Moradabad, by 5-1.



A match in progress during the 2nd Narendra Kharola Memorial Football Tournament at the pavillion ground in Dehradun on Sunday. Tribune photo: Vinod Pundir

St Peters, Bal Vidya Mandir win matches
Dehradun, October 20
Making a one-sided encounter by splendid bowling performance and then batting, St Peters School Bharatpur defeated Dhruv International School, Delhi, by 10 wickets in the ongoing 1st RK Agarwal Memorial Inter-State School T-20 Cricket Tournament here today.