Orphaned siblings denied justice
Dehradun, October 26
Two young orphaned brother and sister have been denied justice by the administration and the police, thus, forcing them to live without shelter. Shyam Singh, father of Joginder and Seeta, was given a piece of land by the government under the family planning scheme in 1993 at Sapera Basti, Thani Gaon, in the Rajpur police station area. Due to family problems, Shyam Singh sent both his children to Shanti Niketan, an orphanage home in Himachal Pradesh. During the course of time, Shyman Singh went missing and both his children were left alone.
Dispose of forestland transfer cases swiftly, DM tells officials
Dehradun, October 26
District Magistrate BVRC Purushottam held a meeting with Sub-Divisional Magistrates, officials of the Forest Department and the Public Works Department regarding pending cases of transfer of forestland. He directed the officials concerned to swiftly wrap up the forestland transfer cases, which had been lying pending for long. He cautioned them against carelessness in dealing with the cases. He also gave them clear directions to work in coordination so that no confusion or delay takes place.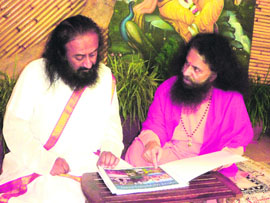 Ravi Shankar, Chidanand to help disaster-hit
Haridwar, October 26
Two spiritual gurus Shri Shri Ravi Shankar, globally famed for his Art of Living Foundation, and Parmarth Niketan-based Swami Chidanand Saraswati Muni have expressed their willingness to work jointly in providing rehabilitation and relief to the disaster-hit people of Uttarakhand.
Revered spiritual gurus Shri Shri Ravi Shankar and Swami Chidanand Muni at Parmarth Niketan Ashram in Haridwar on Saturday. Tribune photo: Rameshwar Gaur

Action sought in Brigadier, wife assault case
Dehradun, October 26
The Uttarakhand Ex-Servicemen League (UESL) at a prèss conference has demanded police action against Suraj Negi, who allegedly assaulted Brig SD Dangwal and his wife Neelam Dangwal at Arborea Luxury Homes on Rajpur Road. The members of the league along with its Uttarakhand president, Lt Gen (retd) HB Kala had demanded immediate action against the accused.
3 held for bid to dupe shopkeeper
Dehradun, October 26
The Vikasnagar police arrested three tricksters who were trying dupe an electronic goods shopkeeper by using fake ATM cards. Accused Munish Verma, Ranjan Pal and Arjun Singh Rathore went to the electronic goods shop at KVL Plaza in Vikasnagar to buy a laptop. After choosing the laptop, they offered to pay through an ATM card and gave it to the shopkeeper but it did not work. Immediately, they gave another ATM card that also did not work. Meanwhile, the shopkeeper got suspicious when they offered him the third ATM card. He immediately informed the police.
PNB Prerna distributes tricycles to differently-abled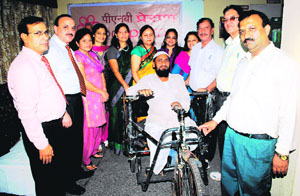 Dehradun, October 26
PNB Prerna, an organisation carrying out social welfare activities under the Corporate Social Responsibility (CSR) of the Punjab National Bank, distributed tricycles to differently-abled persons during a special programme held at the Zonal Training Centre, Dehradun, in association with the Parvateeya Viklaang Seva Sansthaan, here today.
A differently-abled person gets a tricycle at a function organised by the PNB Prerna in Dehradun on Saturday. A Tribune photograph

Nehrugram soccer team win in nail-biting contest
Dehradun October 26

Nehrugram Football Club won the inaugural match of the 3rd Jaideep Bhandari Memorial Football Tournament after defeating Dehra Eleven Football Club in a close encounter. Nehrugram was on offensive at the beginning of the match. Akash of Nehrugram opened the goal tally by hitting the net in the 13th minute of the match. In the second half, Sagar of Nehrugram gave a two-goal lead to his team by scoring a goal in the 58th minute.
Players vie for the ball during a match in the Jaideep Bhandari Memorial Football Tournament at Nehrugram in Dehradun on Saturday. A Tribune photograph

Diploma engineers to launch agitation
Dehradun, October 26
Engineers of the Uttarakhand Peyjal Nigam owing allegiance to the Uttarakhand Diploma Engineers Association have planned to start an agitation against the government for its failure to fulfil their demands.
Anganwari workers to take out rally on Oct 28
Dehradun, October 25
The Uttarakhand Anganwari Workers' Association has accused the state government of going back on its April 2, 2013 promise toward fulfilment of their six point charter of demands regarding better pay and perks. Sushila Khatri, general secretary, UttarakhandAnganwari Workers' Association, today threatened to intensify their agitation and warned the state government of dire consequences if their concerns were not addressed immediately. She announced that the workers had undertaken a complete work boycott since October 21. Khatri said a massive protest rally was proposed for October 28, which would culminate at Chief Minister Bahuguna's residence. — TNS
DIT cultural fest concludes
Dehradun, October 26
The three-day cultural and technical fest of DIT University, Youthopia-2013, concluded on a dazzling note here today. The staff of the university enthusiastically participated in the competitions on the concluding day of the mega event. Competitions like musical chair, matki fod, tug-of-war, hand wrestling and triple leg race were held on the last day. Dr Krishna Kumar, Vice-Chancellor, appreciated the efforts put in by the students of the university and the participating colleges for their enthusiastic response to the fest. He lauded the efforts of the students and the faculty for hosting such an event which infused creativity, spontaneity and countless learning in the participants. — TNS
Inter-class debate held
Dehradun, October 26
An inter-class debate competition was organised in at The Aryan School with Students from classes I to XI taking part in it. Topics for the students of Classes I and II included "Should Children Be Disciplined at An Early Age". Topics for the Group II, having students from Classes III and IV, were "More Activities Are As Important As Academic" and "Uniform Should Be Made Compulsory in Schools." Vaishnavi Gupta of Class I bagged the first position in the Group I whereas Soha Ali Khan remained the winner of the Group II. The Group III consisted of students from Classes V and VI. Ritika Bose of Class V grabbing the first position in the group. In the Group 4, Dhairya Patel of Class VIII spoke flawlessly and amazed everyone with his oration. He bagged the first place. — TNS
Teacher swindles school's money, sacked
Dehradun, October 26
A school teacher has allegedly siphoned off school's money. She manipulated the fee receipts and charged extra fees from schoolchildren. Harpreet Sharma, a teacher with International Sole School at Doiwala, allegedly swindled lakhs of rupees collected by way of school fees. According to complainant Anu Sharma, the matter came to light when discrepancies were found between the fee receipts produced by the parents during the teacher-parent meeting and the fee receipts. After an internal inquiry by the school it was found that Harpreet, who was responsible for fee collection, had embezzled money. The police has registered a case against Harpreet. The school administration has terminated her services. — TNS
Saurabh Khali declared best debater
Dehradun, October 26
Law College here organised an Intra-College Hindi Debate Competition on the topic "Dharam Guru Dharam ka Vyavsayikaran kar rahi hai" with six teams fighting it out in the finals here yesterday. The views put forth favouring the issue backed religion as becoming a source of not only earning but also a means to unimaginable evil. While opposing the theory, it was argued that "Faith could move mountains" and the human mind being trivial by nature and susceptible to greed. Suchi Sharma and Saurabh Khali were declared winners of the competition while team Akshat Gaur and Manoj Kumar stood runners-up. Saurabh Khali was declared the best debater of the competition. — TNS
Web-designing contest
Dehradun, October 26
An Inter-house web designing competition was held for senior students at Unison World School (UWS) by its Computer Department here today. The topic of the competition was 'Diwali festival'. Orchid House won the competition followed by Jasmine House. Shreya Rawat, Nibya Singh, Varnika Bansal and Shailja Jaiswal were the part of the winning team. — TNS