Will Hooda's sops translate into votes in coming elections?
Sirsa, November 11
After the success of Shakti Rally organised by the Congress at Gohana, where Chief Minister Bhupinder Singh Hooda announced a slew of benefits for various sections of society, political observers are in the process of assessing the political gains Hooda is likely to make from this rally.
Announcements at Gohana bundle of false promises: Bishnoi
Sonepat, November 11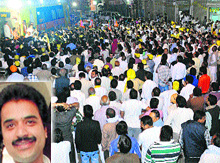 HJC supremo Kuldeep Bishnoi has termed the announcements made at the Gohana rally as a "bundle of false promises" to mislead the people, adding that like other announcements, these announcements will also remain on papers.
HJC chief Kuldeep Bishnoi (inset) addresses a gathering at Gohana from his Vijay Rath on Sunday. Photo: BS Malik

College, varsity teachers plan statewide protests
Gurgaon, November 11
Lavish pre-poll bounty announced by the Haryana Chief Minister at yesterday's Gohana rally notwithstanding, resentment prevails among university and college teachers of the state due to non-fulfilment of their longstanding demands and an "indifferent" attitude of the authorities concerned.