Himachal Govt steps back on HPCA land lease
Shimla, November 18
In what appeared to be a tactical retreat, the Himachal Cabinet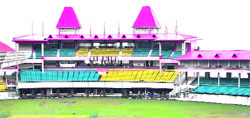 today withdrew the decision to cancel the land leased out to the Himachal Pradesh Cricket Association (HPCA) and the takeover of its assets.
A file photo of HPCA's Dharamsala stadium.
Relatives become personal assistants to Punjab MLAs
Bathinda, November 18
At least two women MLAs in Punjab have appointed their husbands as personal assistants (PAs) for a paltry salary of Rs 5,000 per month!
Scandal right under the nose of state govt
Chandigarh, November 18
The Special Tribunal headed by Justice Kuldip Singh has held that Village Nada was a "classic example" of huge Gram Panchayat land measuring more than 200 acres having been "grabbed systematically with the connivance of the Gram Panchayat and the Revenue officials" in Village Nada, which was less than three kilometres from the Punjab Civil Secretariat in Chandigarh.

Didn't buy shamlat land: BS Sandhu
Gen VK Singh apologises to Supreme Court
New Delhi, November 18


Former Army Chief VK Singh today tendered an "unconditional apology" to the Supreme Court for making certain remarks on its order over age row, saying he had no intention to bring disrepute to the institution and judges, who are like "demigods".