Lokpal Bill gets RS nod; LS to consider it today
New Delhi, December 17
Sending out a clear message against corruption in high places ahead of the 2014 Lok Sabha elections, the Rajya Sabha today passed by voice vote a Bill for setting up a Lokpal with vast powers to look into complaints against the Prime Minister, his Cabinet colleagues and Central Government officials, conduct searches, attach property and supervise the CBI and the CVC.
Communal violence in Karnal village
Kutel (Karnal), December 17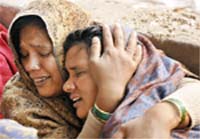 A place of worship and three houses of members of a religious community were damaged while another house was torched as communal violence erupted in the peaceful village of Kutel in Karnal.
Grieving relatives of Ravinder, who was allegedly murdered. Tribune photo: Ravi Kumar
India, Pak DGMOs to meet on Dec 24
New Delhi, December 17
The Director Generals of Military Operations (DGMOs) of India and Pakistan will meet at the Wagah-Attari land crossing between the two neighbours on December 24, the first-ever such meeting since July 1999. Indian DGMO Lt Gen Vinod Bhatia has been invited by his Pakistani counterpart Maj Gen Amir Riaz for talks through diplomatic channels of the foreign offices on either side.
OTHER PAGES

HIMACHAL: Smooth sail: Cong, BJP sink difference


CHANDIGARH: Flights cancelled, trains delayed


LUDHIANA: Fog derails travel plans


DELHI: ECís drive to enrol new voters

BUSINESS: FDI in multi-brand retail gets boost

OPINIONS: Bill to contain riots

SPORTS: Test of character for India

WORLD: Russian missile deployment raises alarm


Lahore Log

The tribune guide to best colleges

Budget
2013-14

INDIA CHINA WAR 50 YEAR LATER

EARLIER FEATURES

Rs 400-kit makes thalassaemia testing cheaper
New Delhi, December 17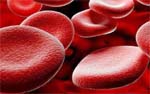 Scientists today launched the countryís first indigenous thalassaemia detection kit that will test an individual for all eight major thalassaemia mutations which account for 90 per cent of the molecular defects in Indians.
3 get 20-yr jail for US touristís rape in Manali
Kullu, December 17
Almost six months after a 31-year-old US tourist was gang-raped in Manali, a Kullu court today sentenced three Nepalese youths to 20 years of rigorous imprisonment for the crime.
Delhi voters to take final call: AAP
Party seeks peopleís views on government formation; decision on Dec 23
New Delhi, December 17
Caught in a fix over government formation in Delhi, especially after the BJP and the Congress offering it Ďunconditionalí support, the Aam Aadmi Party (AAP) on Tuesday said it will take views of Delhi voters before taking a final call. The party will make its decision public on Monday.
Lt Governor recommends Presidentís Rule in Delhi
December 17, 2013
Cong open to compromise on passage of Lokpal Bill
December 16, 2013
Delhi tussle: AAP raises 18 points for Congress, BJP
December 15, 2013
Indian diplomatís arrest in US upsets Delhi
December 14, 2013
A day after, govt weighs options to de-criminalise homosexuality
December 13, 2013
Gay sex illegal, rules SC
December 12, 2013
Lt Gen Brarís attackers get 10 to 14 years in jail
December 11, 2013
Cong faces ally fire over poll debacle
December 10, 2013
BJP 4-0, Cong wiped out; AAP makes dream debut
December 9, 2013