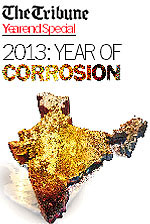 Virbhadra CD case: Vigilance nod to action against Himachal SP, ex-DGP
Shimla, January 9
The Vigilance and Anti-Corruption Bureau today recommended departmental action against retired Director General of Police DS Manhas and Superintendent of Police Hardesh Bisht for allegedly concealing evidence and recording false statements while investigating the CD case against Chief Minister Virbhadra Singh. A Shimla court has already acquitted the CM in the case. The bureau completed the inquiry and submitted its report to the Home Department today.
nri meet
Modi takes a dig at PM
Says good days are just 4-6 months away
New Delhi, January 9
Gujarat Chief Minister and BJP prime ministerial candidate Narendra Modi was clearly the toast of the Indian diaspora on the concluding day of the Pravasi Bharatiya Divas (PBD) today as he mocked at Prime Minister Manmohan Singh for the latter's remark yesterday that the country could look forward to better times.
| | |
| --- | --- |
| | Haryana CM Bhupinder Singh Hooda (left) talks to BJP PM candidate Narendra Modi during the 12th Pravasi Bharatiya Divas in New Delhi on Thursday. Tribune photo: Mukesh Aggarwal |
OTHER PAGES

PUNJAB: Cong list imbroglio may cast shadow over Maghi Mela rally


HARYANA: Statutory posts not for those with criminal records


HIMACHAL: Flower power: Rs 74 crore sought for terminal market in Parwanoo


CHANDIGARH: Auto lifter dies as gun goes off


LUDHIANA: Seizure of fake currency sends alarm bells ringing in Police Department


DELHI: Govt forms committee for Jan Lokpal Bill

OPINIONS: Justice Ganguly quits, finally

BUSINESS: FDI norms eased to boost investment

SPORTS: Rasool keeps it even steven

WORLD: Court summons Musharraf on Jan 16 to face treason charges


Lahore Log

The tribune guide to best colleges

Budget
2013-14

INDIA CHINA WAR 50 YEAR LATER

EARLIER FEATURES
Hooda wants diaspora to invest in Haryana
New Delhi, January 9
Haryana today showcased its investment potential to Non Resident Indians attending the 12th Pravasi Bharatiya Divas here today. Haryana Chief Minister Bhupinder Singh Hooda called upon the Indian diaspora to become "partners" in the growth model of Haryana. Inviting the Indians living abroad to Haryana to see the development of the state, Hooda said the state was according special facilitation to them.
Meet ends; Prez hails NRIs' contribution
New Delhi, January 9
The 12th Pravasi Bharatiya Divas concluded today with President Pranab Mukherjee hailing the contribution of Non-Resident Indians in the growth and development of the country. "The government will continue to actively engage with the overseas Indian community and explore all possible avenues to make them valued partners in building a strong and prosperous India," Mukherjee said at the concluding ceremony of the three-day meet.


Before SC, Centre admits to flaws in coal allocation


New Delhi, January 9
The Centre on Thursday acknowledged before the Supreme Court that something had gone amiss in the allocation of coal blocks and that corrective steps were required. "In hindsight, we can say something has gone wrong and some correction is required," Attorney General GE Vahanvati told the three-member Bench headed by Justice RM Lodha that is hearing a batch of PILs seeking cancellation of the coal block allocations in view of irregularities in the exercise.

Better times ahead, PM assures diaspora
January 9, 2014
Priyanka chairs key Cong election meet
January 8, 2014
Can't be business as usual, India tells US
January 7, 2014
GSLV propels India into exclusive club
January 6, 2014
AAP's grand plan: To contest most LS seats
January 5, 2014
PM says no 3rd term for him, Rahul fit for top job
January 4, 2014
M'rashtra Govt partially accepts inquiry report on Adarsh scam
January 3, 2014
Govt scraps Agusta copter deal
January 2, 2014
After water, power sop for Delhiites
January 1, 2014