Admn on its toes for CM's visit today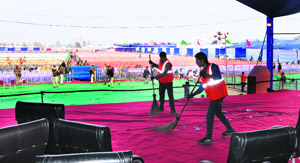 Amritsar, February 11
Chief Minister Parkash Singh Badal will inaugurate the War Memorial in the city tomorrow. The civil and police administration have made elaborate arrangements and also declared a holiday in all private and government schools in the district to keep a check on the flow of traffic on the roads.

Arrangements being made for the foundation stone laying ceremony of the War Memorial in Amritsar on Tuesday. Photo: Vishal Kumar

Staff resent non-payment of salaries
Amritsar, February 11
Even as the state government is gearing up for a mega event to mark the foundation stone-laying ceremony of the war memorial here on Wednesday, employees of various departments are lamenting non-payment of salaries.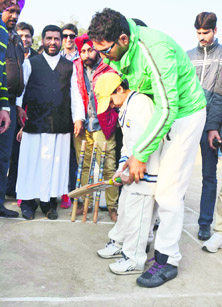 Master blaster: Cricketer Yuvraj Singh gives tips to his young fan in Amritsar on Tuesday. Photo: Vishal Kumar

Admn fails to repair faulty streetlights
Amritsar, February 11
Leader of Opposition in the MC Rajkanwal Singh Lucky has accused the administration of not having any policy for maintenance of streetlights in the city. He along with residents of his ward pooled money to get the streetlights repaired in their area.
Diagnostic centre at Martyrs Memorial Civil Hospital delayed
Amritsar, February 11
The diagnostic centre at Jallianwala Bagh Martyrs Memorial Civil Hospital has been delayed because of the private firm engaged to run the centre failing to conduct an inspection of the building.
Workshop on research methodology, statistics
Amritsar, February 11
An advanced workshop on research methodology and statistics for PhD Scholars, Assistant Professors and Associate Professors was organised at Academic Staff College of Guru Nanak Dev University.
Safai sewaks seek insurance cover
Amritsar, February 11
Class IV employees of the Municipal Corporation met Local Bodies Minister Anil Joshi yesterday. They submitted a memorandum to bring them under the health insurance scheme for Rs 5 lakh. Earlier, Joshi had released Rs 1 crore grant for providing them uniforms.
20 lakh suffer from TB annually: Red Cross
Amritsar, February 11
A high-level team of Red Cross visited the city to take stock of the progress of its project to provide treatment to category 2 tuberculosis patients during the past four years. The team comprised Maude Froberg, head of the International Federation Red Cross and Red Crescent Societies (IFRC), New Delhi, Vanshri Singh, Coordinator Indian Tuberculosis Project of Red Cross, Dr Kailash Raizada, senior consultant for the project and Gopal Mukherji.
University college shines in Intech Utsav
Amritsar, February 11
Sri Guru Teg Bahadur University College of Guru Nanak Dev University has won the second position in 'Logic Whirlpool' event. The college team was among the top four teams in the quiz competition. These competitions were organised in a technical festival 'Intech Utsav' organised by RR Bawa DAV College for Girls, Batala recently.
College's sports festival concludes
Amritsar, February 11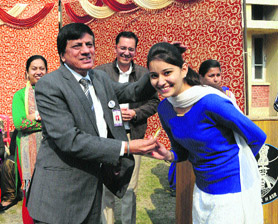 The annual sports festival of Government Dental College and Hospital concluded on its campus here today. College Principal Dr Vimal Kant Sikri took salute of honour from the march past. The college organised various fun games for the students and faculty which witnessed massive participation. Speaking on the occasion, Dr Sikri encouraged the students to excel in other activities along with studies.

Vimal Kant Sikri, Principal, Government Dental College and Hospital, gives away a prize to a student on the college premises in Amritsar on Tuesday. Photo: Vishal Kumar

Two booked for murder
Amritsar, February 11
A notorious gangster and his accomplice shot dead a youth outside a marriage resort, located on the Amritsar-Attari Road, here last night. The deceased was identified as Karundeep Singh. Ranjit Singh Rana of Kandowalia and Judgebir Singh were booked in this case.
Thief kills temple's caretaker
Amritsar, February 11
A person who barged into a temple with the intention to loot the golak (donation box), killed its caretaker in self-defence here today. The deceased has been identified as Gurmukh Singh Pappu. The instance occurred at about 8 am when the accused identified as Chogawan Resident Jagbir Singh broke the locks of the golak placed inside a temple of Dera Baba Bhorewala Gaushala Samiti located at Ram Tirath near here. On spotting him, Gurmukh Singh chased him up to some distance. Even as he had managed to catch the accused, with the help of some other persons gathered on the spot, the accused hit the victim between his legs in a bid to escape. This proved to be fatal. — TNS