Fresh stock of anti-rabies vaccine arrives
Amritsar, February 4
The Jallianwala Bagh Martyrs Memorial Civil Hospital which was facing a shortage of anti-rabies vaccine for a while has received the fresh stock, said Senior Medical Officer Dr Hardeep Singh Ghai.
Gun shot fired at cable operators' meeting
Amritsar, February 4
A local cable operators' meeting ended up in utter panic when one of the members fired a shot from his revolver following a dispute over some issue. No loss of life was reported in the incident that occurred at the Sun City amusement park, here, this evening. However, a person received minor injuries.
'Kirpaan' star cast comes calling to promote their movie
Amritsar, February 4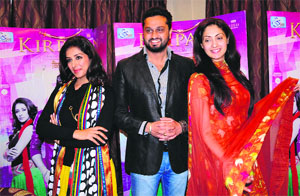 The star cast of Punjabi film 'Kirpaan - The Sword of Honour' visited the city to promote the movie. Promising to be a combination of love, romance, patriotism and family values, 'Kirpaan', which stars Roshan Prince in the lead along with Gurleen Chopra and Sameeksha Singh, will hit the screens on February 7.
Star cast Roshan Prince, Gurleen Chopra and Sameeksha Singh during the promotion of their upcoming film "Kirpaan" at Amritsar on Tuesday. photo: vishal kumar

quality of milk
SC verdict brings relief to consumers
Amritsar, February 4
The Supreme Court (SC) verdict directing the state governments to ensure quality of milk and to give up its "lenient" attitude towards those responsible for adulteration of milk and milk products with hazardous synthetic substances has come as a respite to the consumers in the city who often complain about adulterated and substandard milk supply.
MBA, MCA, BTech students conferred degrees
Amritsar, February 4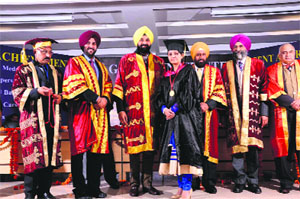 Students of MBA, MCA and BTech, who passed out in the 2010, 2011, 2012 and 2013 sessions, from Global Institutes were conferred degrees at its first annual convocation held on the campus today.


Cabinet Minister Bikram Singh Majithia along with other dignitaries at a convocation on the premises of Global Institutes in Amritsar on Tuesday. A Tribune photograph

47 police officials transferred
Amritsar, February 4
Following fresh directions of the Election Commission of India ahead of the Lok Sabha elections, the Punjab Police transferred as many as 47 police officials from the border range.

Dr Sharma is GMC acting principal
Amritsar, February 4
Newly appointed acting principal of Government Medical College (GMC) Sujata Sharma said providing better treatment to poor patients and improving the educational standards would be her top priorities. Dr Sharma is also working as Medical Superintendent of the college-run Guru Nanak Dev Hospital.
Seminar on textile schemes
Amritsar, February 4
The Regional Office of the Textile Commissioner, Amritsar, in association with PDEXCIL, Mumbai, and the Textile Manufacturers Association recently held a seminar on various schemes being offered by the Union Textile Ministry.
BMD check-up camp held
Amritsar, February 4
Continuing the charitable efforts for improving the public health, a free Bone Mineral Density (BMD) check-up camp was organised at Boparai Dukh Niwaran Hospital, A-3, Ranjit Avenue, Amritsar, under the supervision of Dr RPS Boparai Ortho & Trauma Surgeon, today.
Workshop on yoga concludes
Amritsar, February 4
A three-day workshop on ``Patanjali- Yoga Practices'', concluded at Khalsa College of Education (KCE) on Tuesday. Prof Annette Thygesen from Oslo, Norway, provided practical knowledge of Yoga to students and to the college faculty. She stressed on the need to make Yoga part of our daily lives.
1 kg heroin seized, 3 held
Amritsar, February 4
The Counter Intelligence, Amritsar, today arrested three persons with one kg heroin. They were produced in a local court which sent them in two-day police remand.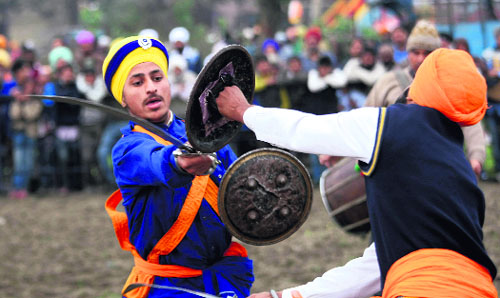 valorous deed: Sikh boys display gatka skills during a fair held on the occasion of Basant Panchami at Cheharta near Amritsar on Tuesday. photo: vishal kumar